Voluum Review - Ad Tracker for All Ad Platforms?
One of the leading sources of income for bloggers and independent writers is affiliate marketing. With advertising campaigns, affiliate marketers, and emails, large companies can increase their profits, and smaller businesses can make some extra revenue. 
However, large companies must have a way to track all the campaigns, from online marketing to individual affiliates. For this kind of tracking, companies would traditionally use spreadsheets or a series of online documents. An ad tracking service is a subscription that many businesses choose to use instead. 
Voluum is one of the most popular advertising and revenue-tracking software. It offers fair prices, an excellent user interface, hundreds of integrations, and has built a large following.
This article is a complete Voluum review, from the company history to the service offerings.
You might be looking for a service to help your organization if you are a marketing executive, affiliate marketer, business owner, or just getting started in advertising and affiliate campaigns.
Read on to learn about Voluum and the benefits of a Voluum subscription.
What Is Voluum?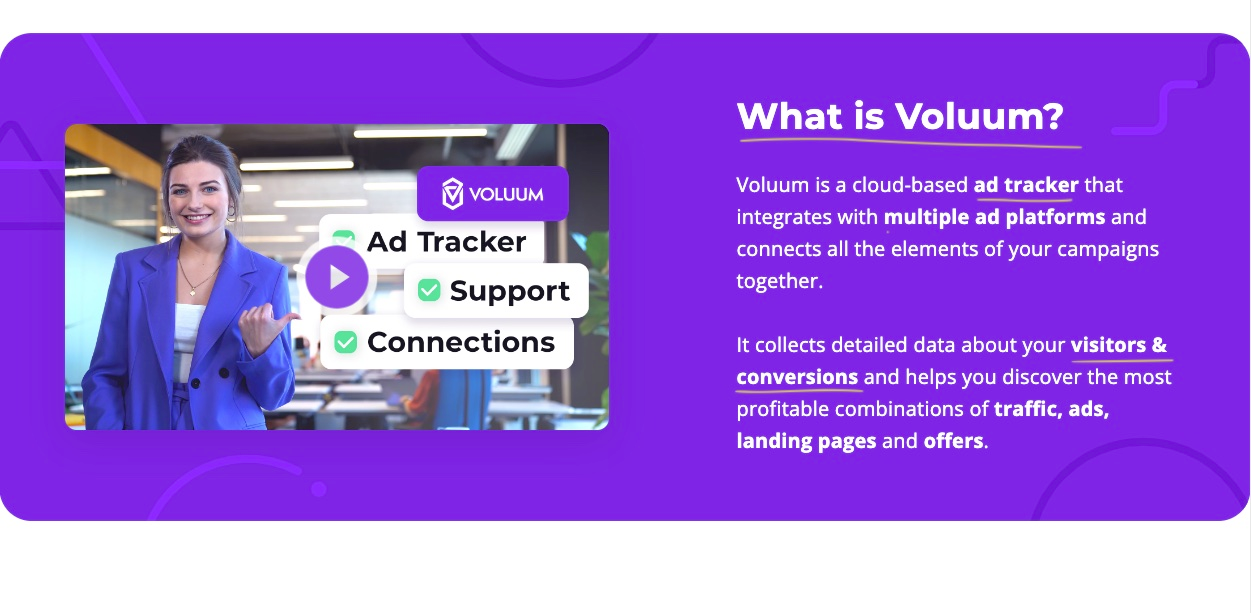 Voluum is a service that tracks advertising and revenue. It features advertising campaigns, integrations, data tracking, and more. Voluum tracks visits and views on your website allow for email and paid traffic campaigns and track investors and affiliate revenue. 
With the automated services that Voluum offers, your marketing team or experts can focus on creating content and products that your customers will love. Voluum's automation can increase revenue and help organizations & affiliate managers keep track of all the sources of advertising and advertising revenue. 
Voluum is an independent company with two main parent companies. It is part of CentralNic Group, PLC, which guarantees domain names and web hosting services internationally for the company. Voluum's parent company and recruiting master is CodeWise, another marketing and development company. 
Company History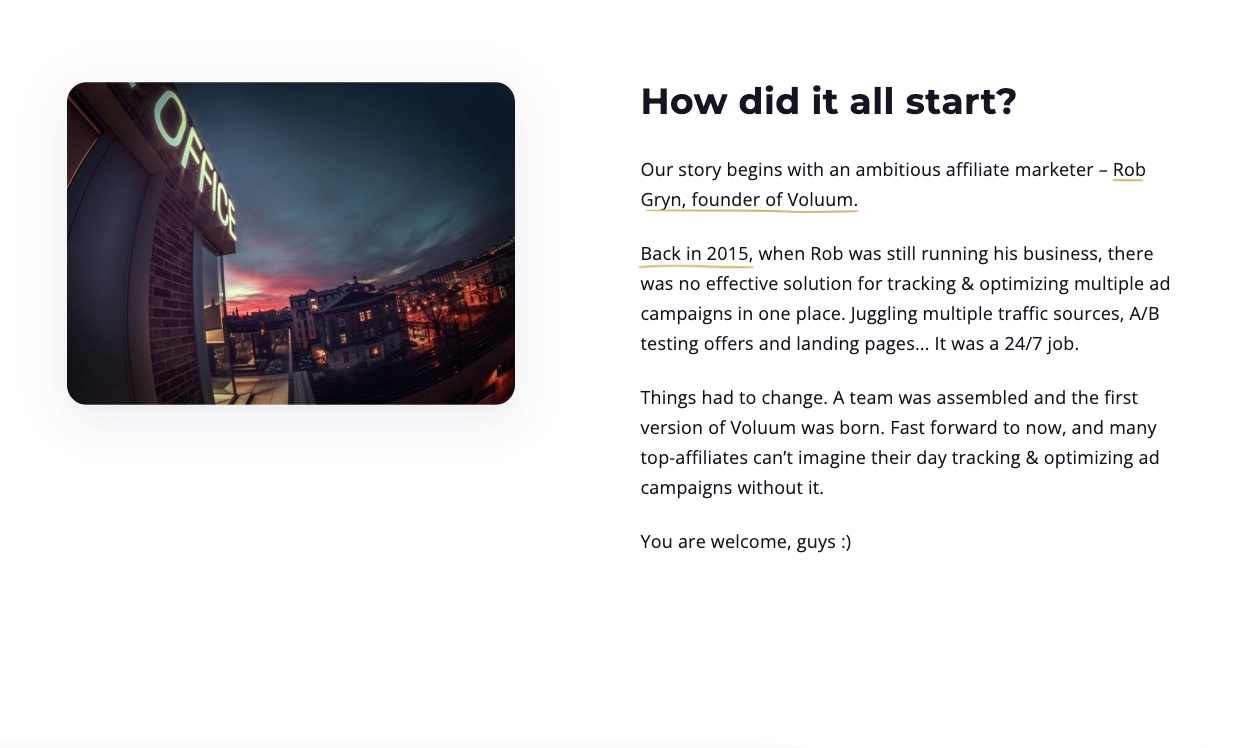 Rob Gryn, an affiliate marketing expert who grew tired of organizing multiple affiliates and affiliate networks, founded Voluum in 2015. He created the organization and data tracking software and started the company with a few friends. 
Voluum was originally an internal data software, meant only for Gryn's personal use. However, when colleagues saw the ad-tracking software, they convinced him to release it as software. Now, Gryn is the CEO of an extremely popular company. 
Since 2015, Voluum has grown to over 100 employees, all of whom are technologically savvy and constantly working on the service. They work from a combination of home offices and in person and work around the clock from various locations and time zones. The office has headquarters in Europe but works worldwide.
Features and Benefits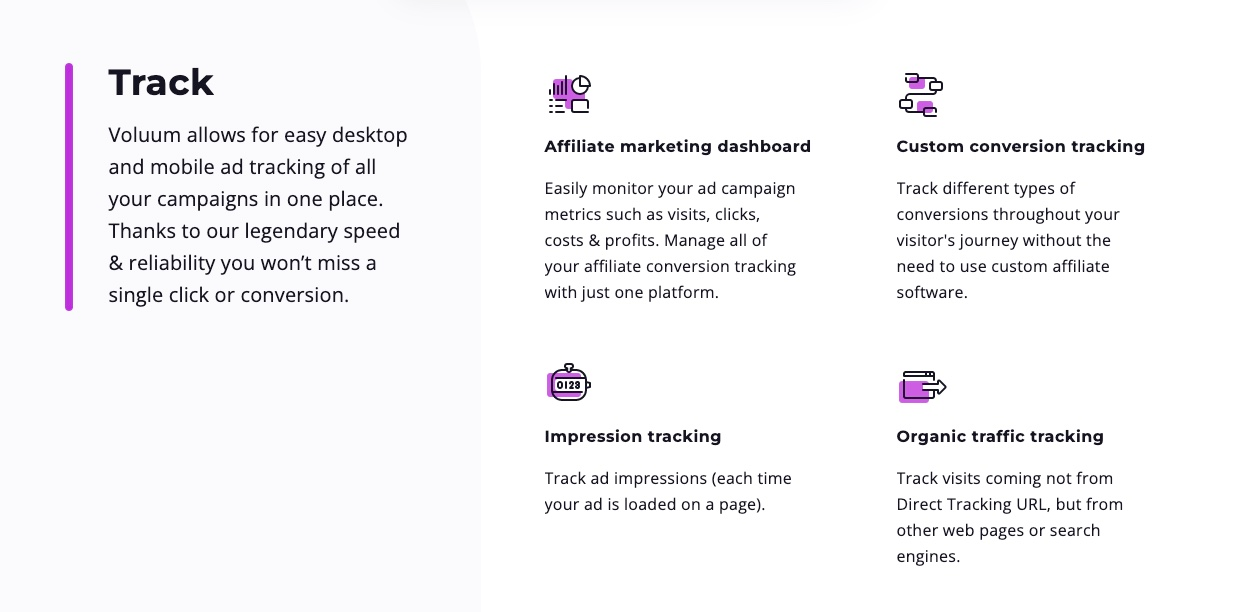 Of course, the most crucial part of this Voluum review is the review of features. Voluum offers a complete service for advertising companies and marketing moguls, from the user interface to ad clicks.
Here are the main features of Voluum and how they perform in the app.
Dashboard
The dashboard of Voluum focuses on simplicity, so there are not many features readily available, but that is because you will receive data from your current ad sales every time you log in. From there, you can choose to dive into the data or work on new advertising campaigns.
The user interface is part of what makes Voluum so popular. It's simple and easy to use, without overwhelming menus or hard-to-find information. Instead, everything is available in the sidebar menu and you can choose where to go and what to do with ease. 
Ease of Use
One of the best features of Voluum is how easy it is to use. With Voluum, even advertising beginners can figure out how to create a new advertising campaign and publish it. The AI can help with beginning funnels and tasks, but as you learn, you will be able to optimize your entire sales flow. 
Some customers have issues with the learning curve that comes with Voluum, but it is no different than learning any new software. Beginners and anyone confused can contact customer service. The representatives are experts and happy to help with the first campaign. 
Infrastructure
 In addition to customer service, the infrastructure of a company is important. Voluum's office is in Europe but it doesn't operate out of a single server. Instead, there are several servers placed around the world, so even if one server has issues, the website hardly ever goes down. 
Because it is an entirely web-based service, you won't have to worry about the internet going down or losing your progress due to computer crashes. You can access your Voluum account from anywhere in the world and count on the superior internet infrastructure to keep all of your information safe and secure. 
Data Tracking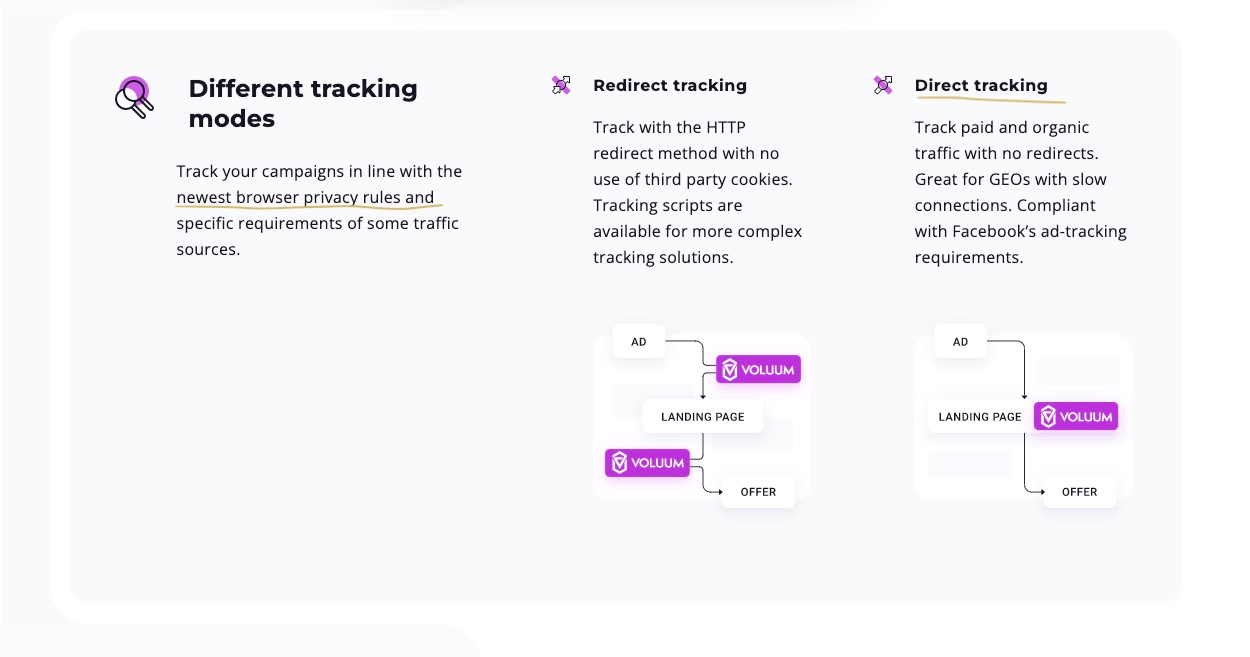 Of course, one of the most important parts of advertising analysis is the data itself. There are hundreds of ways to track data, but marketing executives know that impression, conversion, and pixel tracking are the most important. These focus on the customer's reactions to your advertising and what ads gained the most attention. 
If you're looking to grow your business without spending a fortune on advertising, a service that tracks your ads and lets you know which aren't working is essential. Like customers earning over a billion dollars through Voluum, you can make money from selling ads. 
Impression Tracking
With Voluum, every event is either an impression, a click, a conversion, or a visit. Each of these is an event in the customer's journey with your company, and Voluum tracks them all. You can see the amount of money-making traffic in your daily statistics. However, impression tracking is also important, because these impressions could turn into paying customers. 
As long as the customers have allowed data tracking on their smartphones, you will be able to see the data that is legal to share. With impressions tracking, Voluum goes above and beyond simply tracking clicks to keep track of everyone who might have seen and interacted with your advertisement. 
Custom Conversion Tracking
 In addition to tracking individual events, Voluum offers tracking of conversion rates. When a customer goes from just seeing an advertisement to interacting with it, you'll know. The next step is clicking the ad and downloading or purchasing the product. This information is available to you through your Voluum dashboard. 
However, you can go one step further with customer tracking. Use a custom conversion tracker to focus on certain types of conversions. If you are looking for more conversions from a specific product or advertising space, don't be afraid to make a custom funnel and let Voluum track its success for you. 
Direct Pixel Tracking
Tracking pixels work like cookies. They store a user's history and advertising clicks for future use. However, tracking pixels can follow users across apps and websites, seeing if they ever come back to the original site. 
With direct pixel tracking technology, Voluum can track both organic and paid visitors' history and behaviors. You can adjust your advertising to match your customers' habits and gain a greater understanding of what people are looking for and clicking on on the internet these days. 
Data Reports
All of these data reports go straight to your dashboard. If you have separate campaigns, Voluum divides them up into cells and will automatically add them whenever someone new clicks on them. With a pro or above account, you can easily see how many people click on your links in real time. 
However, with any level of account, you will get a daily report of which advertisements were effective and which ones didn't generate much data. The detailed reporting includes all the relevant information, including how much money each ad campaign has brought in recently. You can change things up or keep them as they are. 
Traffic Distribution AI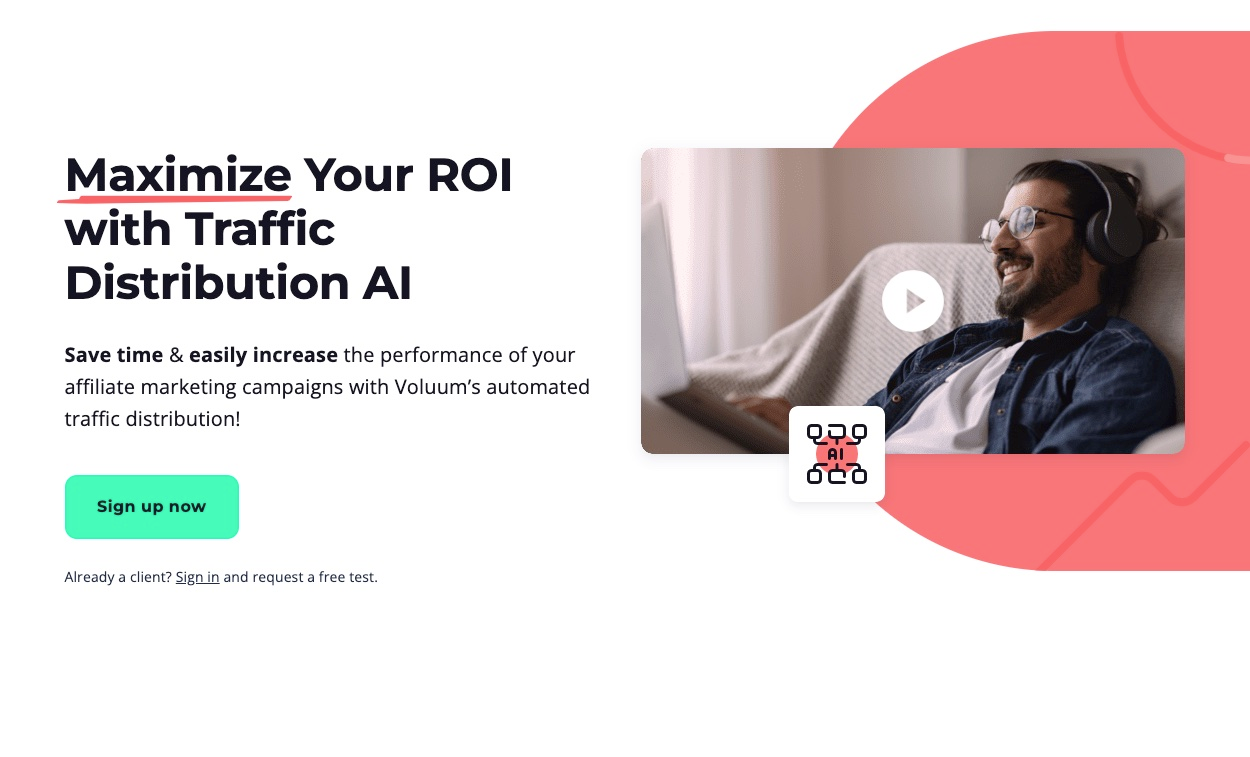 Every campaign and advertising program has a specific route that customers should take. If they sign up for an email list, Voluum adds them to a separate list. If they click certain links, it should take them further down the sales funnel through the use of online marketing. However, much of this is set up manually. 
With Voluum, you have the option to set funnels up manually or allow the traffic distribution AI to completely automate your sales funnel. It works by reading where customers go and how they react to certain triggers and creating the perfect funnel (which you can edit later if you would like to). 
Advanced Analytics
 Once you have the basics of your data tracking, you can use the advanced analytics in Voluum's software to fully optimize your advertising campaigns. If you have a campaign that works well on specific websites, you can optimize that for those sites and create a new campaign for other websites. 
Advanced analytics tell you exactly what you should do and how to create the perfect advertising campaign. You can look at what has worked in the past and how it's changed to create the ad that you need the most right now. 
A/B Testing 
 A/B testing provides advertisers with a method of testing two different types of ads. If you have a wide audience on a particular website, you can run an A/B test and see whether ad A or ad B works better to produce more traffic and customers in the long run. These tests are completely anonymous and customers have no idea. 
Voluum allows you to A/B test within several campaigns at once and delivers the data from the test to you as soon as it's received. If you are skeptical about the performance of a specific ad, A/B tests it to see if it does better than a different version. It's easy to set up once you have run ad campaigns. 
Real-Time Routing API
 Routing API happens when an algorithm assigns a specific action to a customer. With regular routing API, you can have a list of customers who click specific links, look at products, or sign up for emails. It will update regularly and provide you with fresh statistics whenever it updates. Voluum's API is up to date and works well. 
However, if you move beyond the basic plan, you can upgrade your routing API to a real-time routing API. This type of tracking does the same thing, but you see everything at the moment that it happens. As customers click links and visit your site through advertisements, you'll know all the details. 
Fraud Protection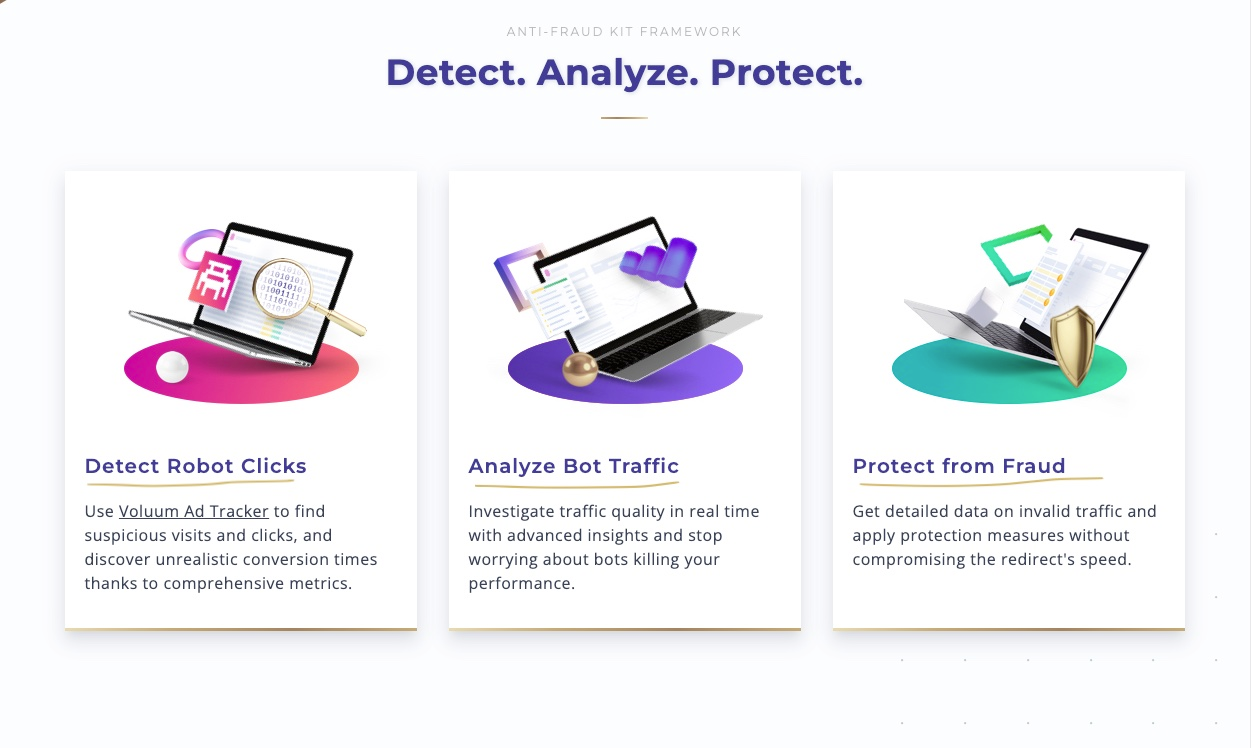 When you are tracking link clicks and customer data, it's easy for bots, spam, or rivals to click on your website to fool you. With the fraud protection offered by Voluum, you can rest assured that you will have an accurate view of your customer's likes and dislikes, and you'll be able to adjust your marketing strategy accordingly. 
Voluum is always updating its fraud protection, and filter options in the marketplace and on your dashboard before you even see them. If you work in media or social media, it's crucial to have fraud protection on your advertisements, so you don't lose money to bots. 
Marketplace Beta
Once you've created your advertisement and decided on the primary audience, you need to buy advertising space somewhere online. Although many places offer cheap exposure, it may be better to choose a location where more of your primary audience will see it. 
The marketplace on Voluum shows you a series of offers from various websites. With it, you can choose which websites will run your ads and how much you will pay. You can tell the difference in price and purchase agreements between all of the potential advertising spots online. 
Multiuser Mode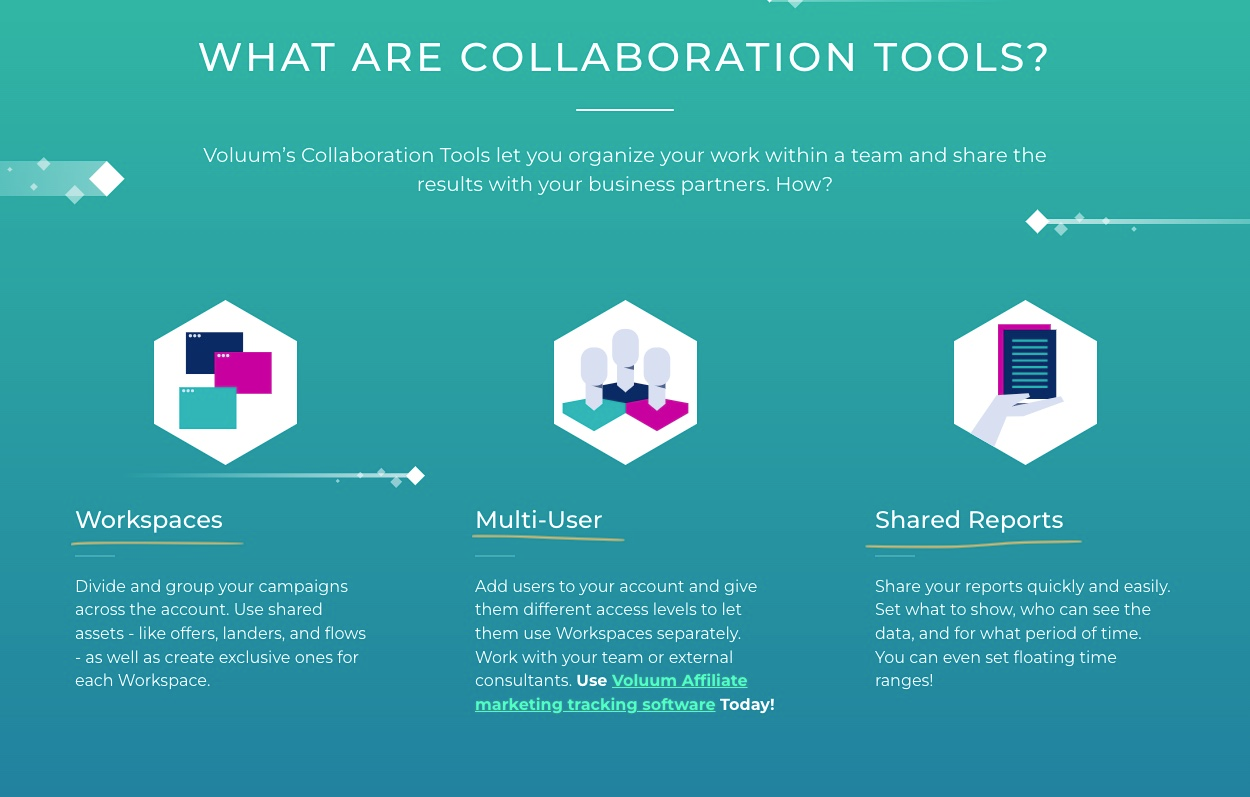 If you have a pro or business-level plan, you can add separate logins for members of your team. Although the basic subscription only allows for one user, you can have up to five different users with a business account. Your entire marketing department can log in and create ads during work. 
With multiuser mode, one user (you) will be in charge of tasks and workflows. You can see everything that your employees are doing, and it is easy to send advertisements and data back and forth to each other for reviews. Voluum makes it simple to work as a team in one user interface. 
Campaign Creation
Not only can you see data from campaigns and look at the traffic on your websites, but Voluum also allows you to create campaigns from the software. With an easy-to-use interface and multiple ways to buy ad space, you can create the perfect advertisement with the campaign creator in Voluum. 
Although Voluum allows you to create campaigns, it's not the most robust creative center. Many users complain about the simplicity of Voluum's campaign creation center. It doesn't have all the features and campaign sizes that other creators have, but it's not primarily made to create advertisements. You can also import ads. 
Integrations
Every online software needs some kind of integration tool. Because you will be using multiple advertising software to create and publish your ads, you will need to be able to integrate the statistics from these apps or websites into your Voluum account. Luckily, Voluum makes it very easy to do this. 
All of your traffic sources will be constantly updated and listed in your Voluum account. All you need to do is set up the initial integration through your Voluum dashboard. It's simple to do and doesn't take long. Once you're finished, you can see data from all of your campaigns in one easy place. 
Native DSP
 DSPs, or demand-side platforms, allow you to buy traffic without using up precious resources. With a DSP, you don't have to go through the work of creating an ad campaign or automation. Instead, a DSP will do much of this work for you. You can allow the DSP to search for, buy, and use ad space in apps or websites. 
The DSPs in Voluum isn't an external integration or addition, however. It's a relatively recent adaptation of the software itself. With a Pro or beyond plan, you can utilize the demand side platform in the Voluum software and purchase advertising space without having to leave the app. It's convenient and a huge money saver. 
Customer Service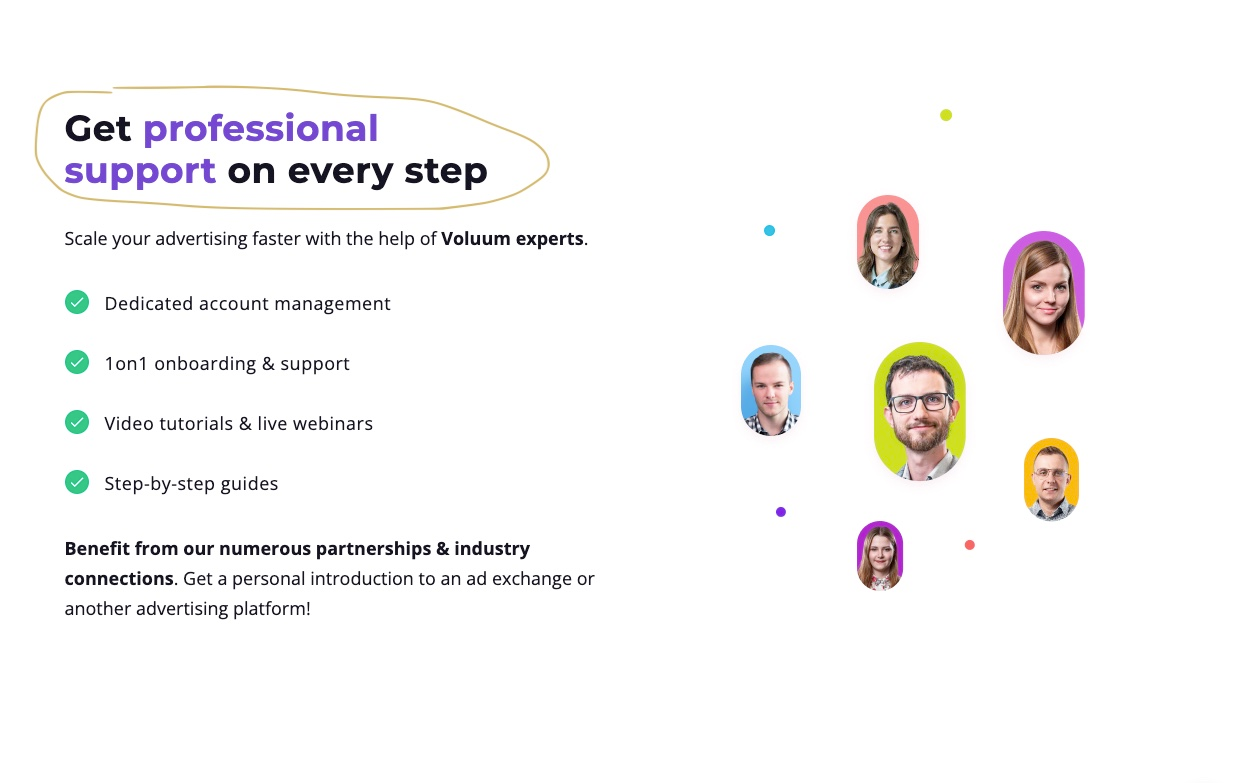 Customer service is an essential part of any business software. Even the best software stops working at times and it's crucial to know who to contact and that they will be able to fix it. With Voluum, there are 100+ employees in different time zones. There is almost always a representative available to help solve problems. 
However, users contact customer service for Voluum more during the creation of the first campaign. If you are a beginner and unsure whether you'll be able to overcome the Voluum learning curve, let a customer service agent know. They are more than happy to help you find the perfect solution and walk you through the process. 
Pricing Plans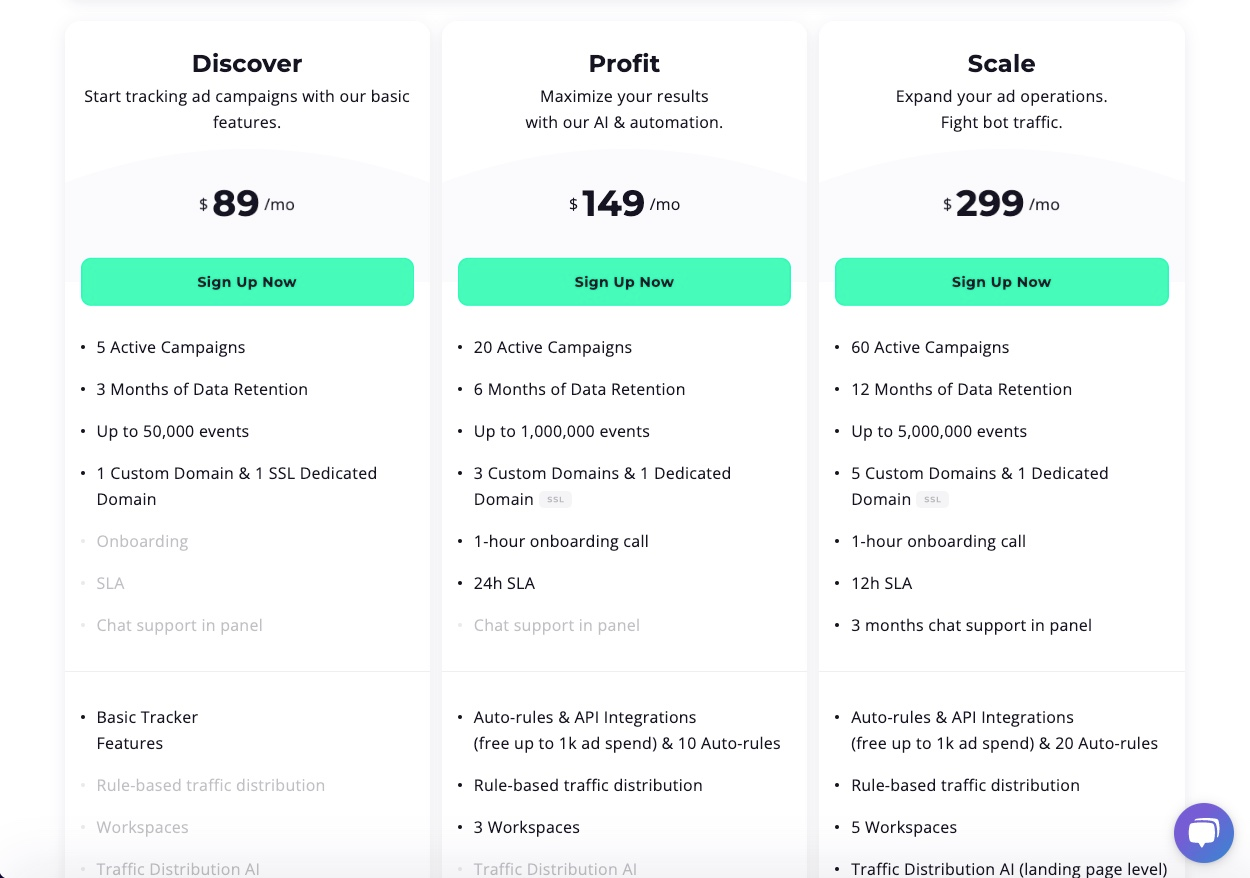 Of course, any software comes with a price. Before you decide to sign up for the service, you should look at the pricing plans and the benefits that come with each pricing tier. Voluum has three main pricing tiers, which vary based on the number of events you can track and the length of time they retain your data. 
While smaller businesses might be fine with the Discover Plan, companies with larger marketing departments might need the Profit or Grow plans. All three of these plans come with excellent customer service and reporting API. However, the more you pay, the more features you unlock. 
Discover Plan
The Discover plan is also known as the basic plan. At only $69 a month, this plan includes a million events, customer support, and six months of data retention.
Here are the details for the basic plan: 
$69 per month 

Six months of data retention

Pro support 

1 million included events

3 custom tracking domains

Reporting API
This plan has no additional users, so it's best for a smaller company that is beginning to grow. Only one marketing expert has login credentials, so if you have multiple marketing employees, the profit plan might be a better option. 
Profit Plan
Marketed as the best value plan for the company, the medium pricing plan has advanced features that basic users don't receive. These include more events, better support, and longer data retention in addition to other features.
Here are the details for the Profit Plan: 
$119 per month

1 year of data retention

Pro support

10 million included events

5 custom tracking domains

2 additional users

Reporting API
Although this plan gives you much more use and increases the number of events you can track, it's geared toward larger businesses. If you're just starting, it might be better to start on a lower level. At this monthly rate, every thousand events will cost you about three and a half cents. 
Scale Plan
 The largest plan is the Grow plan. Priced at $239 a month, this is the most premium plan. It costs quite a bit of money, but has the most features and the greatest amount of domains, additional users, and included events.
Here are the details for the Grow Plan: 
$239 per month

2 years of data retention

Premium support

30 million included events

20 custom tracking domains

5 additional users

Real-time reporting API
With this pricing and the events included, the average price for 1,000 data-tracking events is about three cents. It's a great value, but only if you're going to use the service extensively or have an enterprise-level business. 
Is Voluum Worth It for the Money?
Voluum is a great service if you need to track and organize all of your marketing campaigns. From tracking every advertisement to providing real-time click rates, it's an excellent tool for marketers who spend all their time on spreadsheets and mining data. 
In short, Voluum is worth it if your business focuses on growing through advertising and data tracking. However, if you are not trying to grow as quickly or you don't have much intake for advertising, Voluum might be a little expensive for your needs. 
It all depends on what your business needs are. After reading about the features of Voluum, if you think that it might work for you, you can contact the company for an example of their products or a discount code for your first month. You might find that it works perfectly for you. 
Pros & Cons 
Of course, no software is perfect. Even the best ad-tracking software has some glitches, and it's important to know about them before you start using the service. Here are some of the basic pros and cons of Voluum and why they affect the business. 
Pros
These are the main pros of Voluum: 
Excellent customer service

Easy to use

Great user interface 
Each of these pros is fully explained in the features section. Although the service has issues from time to time, customer service makes it easier for users to get things fixed. Overall, Voluum's ease of use and user interface make for excellent software for tracking ad services. 
Cons
Here are some common complaints about the Voluum software: 
Pricey 

Not enough integrations

A learning curve to use at first
Each of these cons is a big deal for some users but doesn't matter as much for others. The biggest issue is the recent increase in price. This change has caused many users to switch to cheaper alternatives. However, if you can afford the prices and the integrations work for you, this is a great service.  
Voluum Alternatives
If you like the idea of an ad sales tracker but can't afford Voluum's prices, you might be looking for an alternative. There are hundreds of alternatives to the software, but not everyone is worth the price. Here are the top Voluum alternatives and what they offer. 
FunnelFlux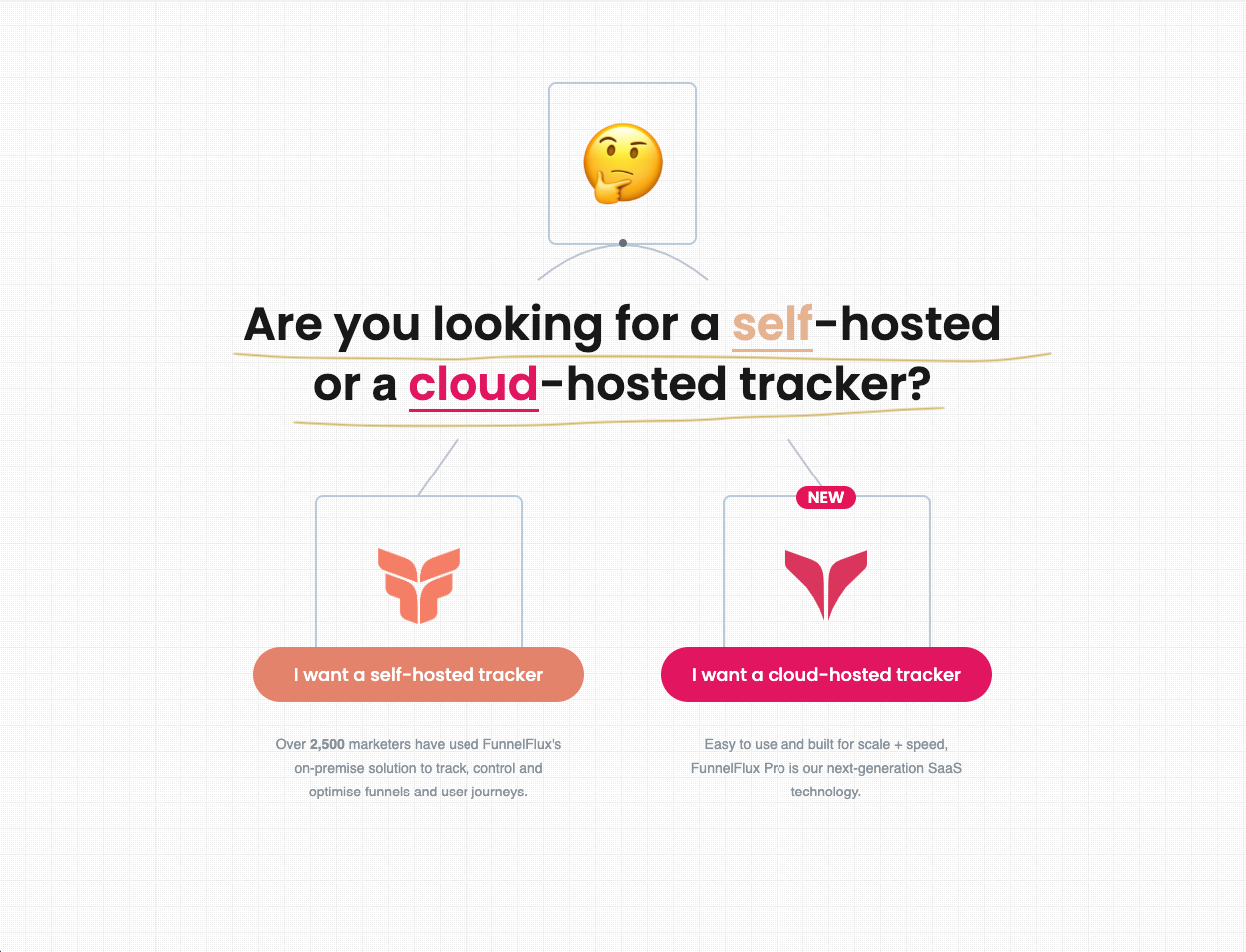 If your business focuses on social media and Facebook campaigns or Google ads, FunnelFlux is an excellent choice for you. It allows you to visualize your sales funnel from your initial ad campaign to your ad revenue.
Here are some of the features of FunnelFlux: 
Visual sales funnels and ad diagrams

No-payment free trials

Endless customer domains

Regular reports and analysis

High data accuracy 
FunnelFlux is the top alternative to Voluum, but one of the more expensive options. With plans starting at $99 a month, you get an extremely accurate dataset with engaging visuals and excellent data. If you need a service with unlimited domains and easy visuals, FunnelFlux is a great option. 
ClickMagick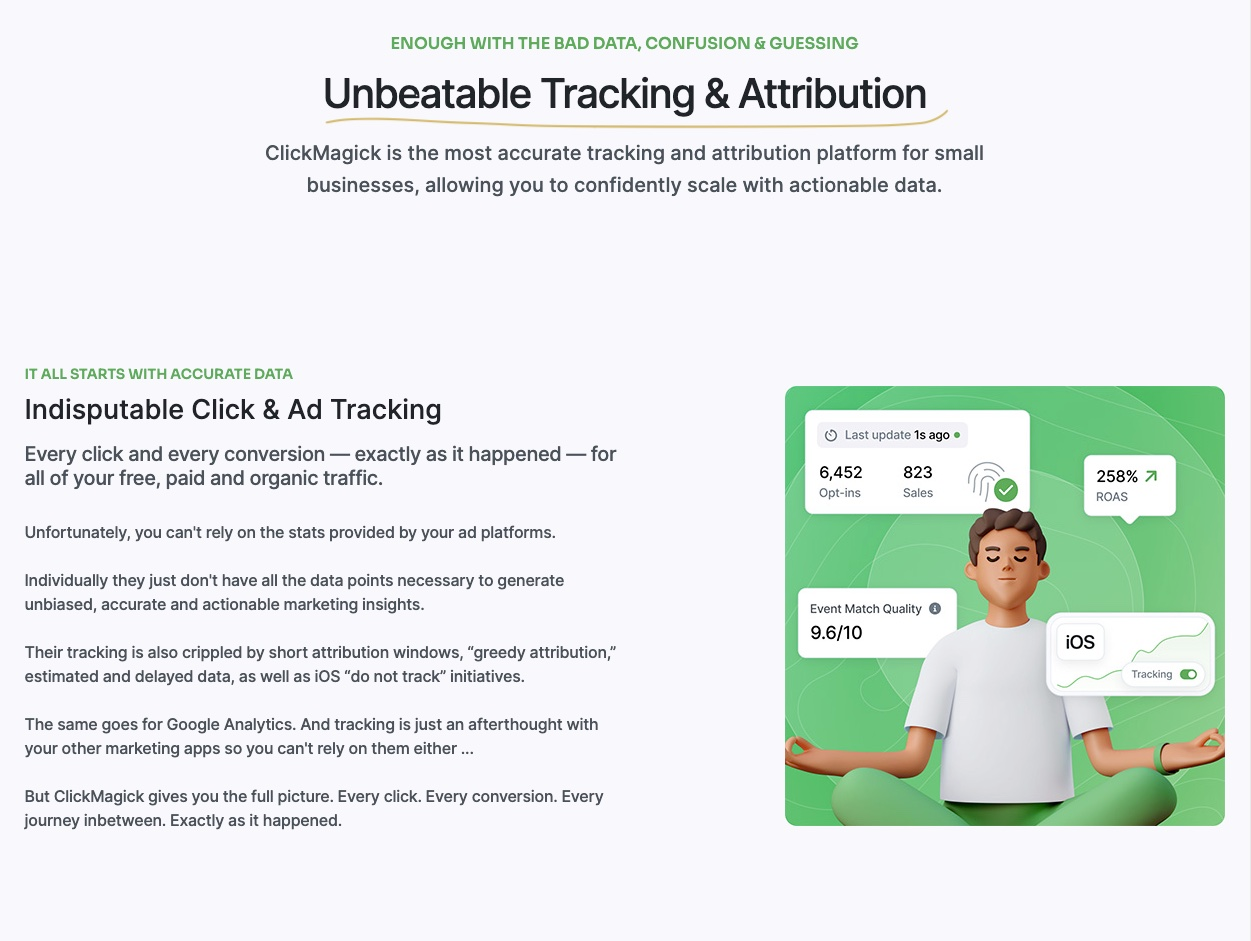 ClickMagick is a web-based option that tracks customers' data, clicks, and links. It focuses on customer clicks, limiting the subscriptions to how many clicks you receive in a month. It's a great way to find out exactly how many customers are viewing your links every month. 
Tracks sales links and conversions

Has a custom domain

A/B split testing 

Spam testing and quality of traffic

30-day money-back guarantee
ClickMagick starts at $27 a month for a basic plan. The higher up you go in the plans, the more you pay. However, you won't unlock all the features with the basic plan. Each level unlocks more subscribers, more events, and extra features. 
Improvely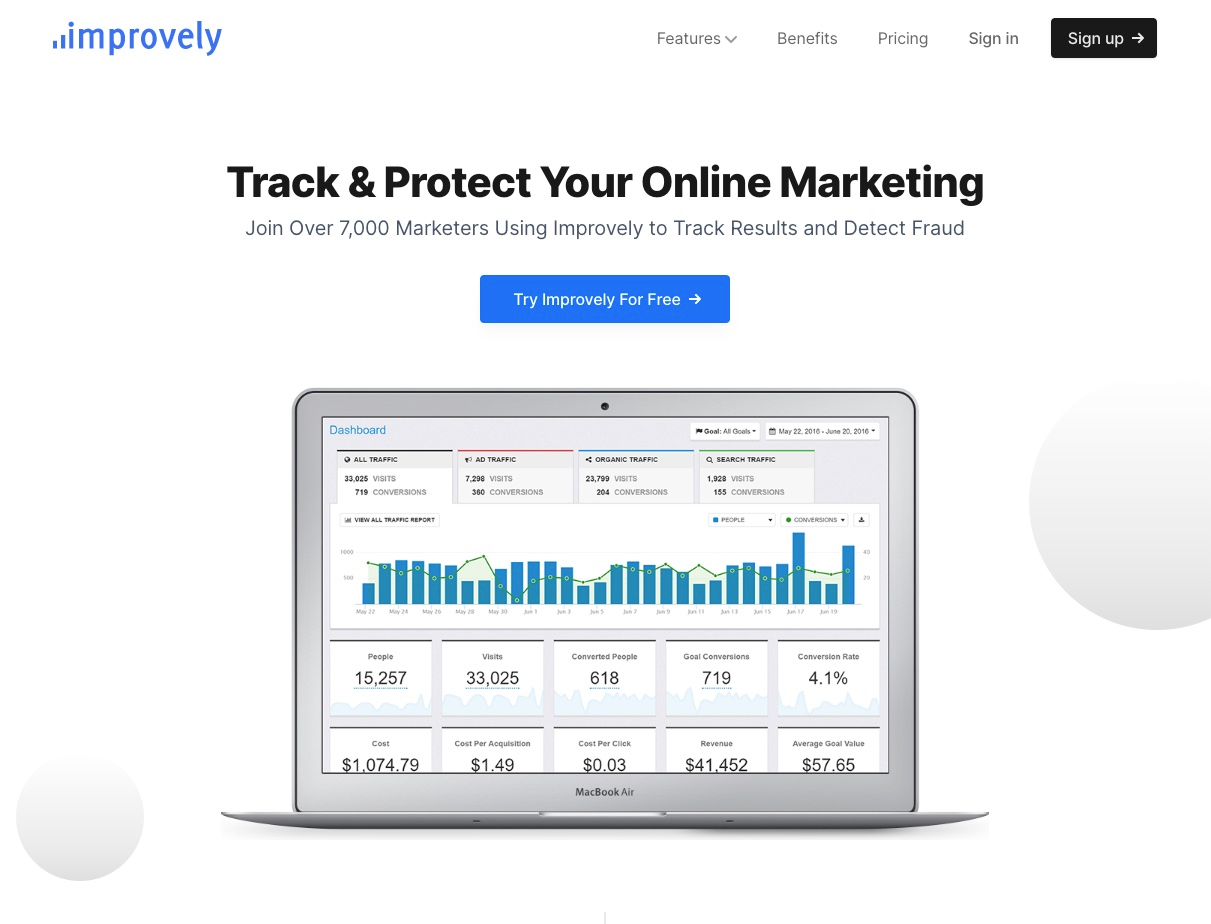 Improvely is a decent option in a medium price range. Starting at $29 a month, this service offers different prices based on the size of your business. However, the features are similar on all levels, including freelancer for individuals and enterprise for huge companies.
Here are some of the features: 
Track and data conversion

Affiliate marketing campaigns

Click fraud monitoring 

Custom domains

Repeat customer tracking 
Improvely is a great option if you are growing your business beyond the basic advertising package. This company offers a wide variety of plans and can cater to your company's size. Each of the plans has a similar set of benefits and the prices are fair for what they offer. 
JotURL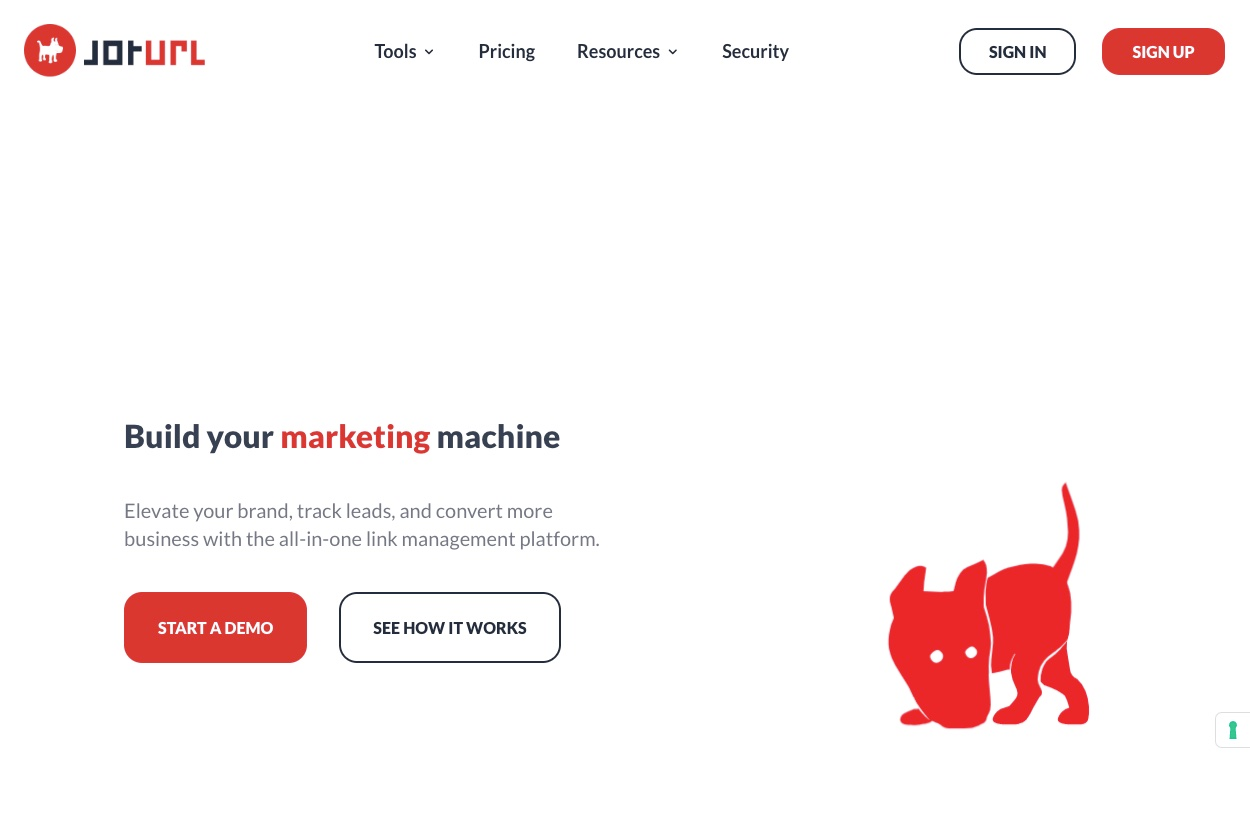 JotURL offers a simple solution for small businesses looking to grow their marketing departments. If you can't quite afford Voluum but want some sort of data-tracking software, JotURL is an excellent option.
Here are some of the features: 
Shortening links for domains 

A/B testing

Low prices (starting at $9 a month) 

Limited events
The biggest downside to JotURL is that the features are extremely limited. However, for a business that's just getting started, this is a great budget option. You can see what your advertising campaigns are doing without spending hundreds of dollars a month on software. 
Frequently Asked Questions
Here are some frequently asked questions about Voluum and their answers. Hopefully, these questions answer yours and help you decide whether this software is a good fit for you and your business!
Does Voluum have a free trial?
 Voluum does not have a free trial, but there are several videos and images of how the software works online. You will have to pay for a month to see whether it is worth it for your business or not. 
Is Voluum mobile-friendly? 
 Voluum is not only mobile-friendly online, but it offers an app for many of the advertisers that it works with. You can keep track of your marketing decisions and advertisements wherever you are. 
Is Voluum secure?
 The encryption and authentication systems in use on Voluum sites have similar levels of safety to those used by financial institutions and government agencies around the world. Voluum has never faced hacking issues.
Final Thoughts
 Hopefully, this Voluum review helped you understand the software of Voluum a little more as well as its services. With this information, you should be able to decide on marketing and advertising software. If you think it will be a good fit for your business, it may be worth trying out Voluum in your marketing department. 
With Voluum, even a beginning advertiser can sort and organize their automation and ad revenues. The tracking and ad clicks are impressively accurate throughout the software. Although this software isn't perfect, it's a great option made by marketing experts for marketers.
Finally, Voluum customer service is available to help you get set up and running. 
Some of the links in this article are affiliate links. If you decide to purchase a paid plan or program by using the links provided on this page, I may receive a commission for that purchase at no additional cost to you. 
This site is not intended to provide financial advice and is for entertainment only. You can read our affiliate disclosure in our privacy policy.
Walter Voronovic shares accurate, honest & pragmatic information on how to use the internet to build profitable digital business assets. 
Digital Marketing Guides & How To's SEO Guides & How To's Ad Tracking & Attribution – Increase ROAS With Accurate Reports Graphic Design Business Ideas
Read More »