Podia Review: Build a Thriving Online Community for Free
For online business owners and mentors looking to take their talents and company to the next level, Podia.com may be the best platform.
Choosing the best platform to run your business can be challenging, so consider this your comprehensive Podia review, including the pros, cons, features, pricing, and all the tools available!
What Is Podia?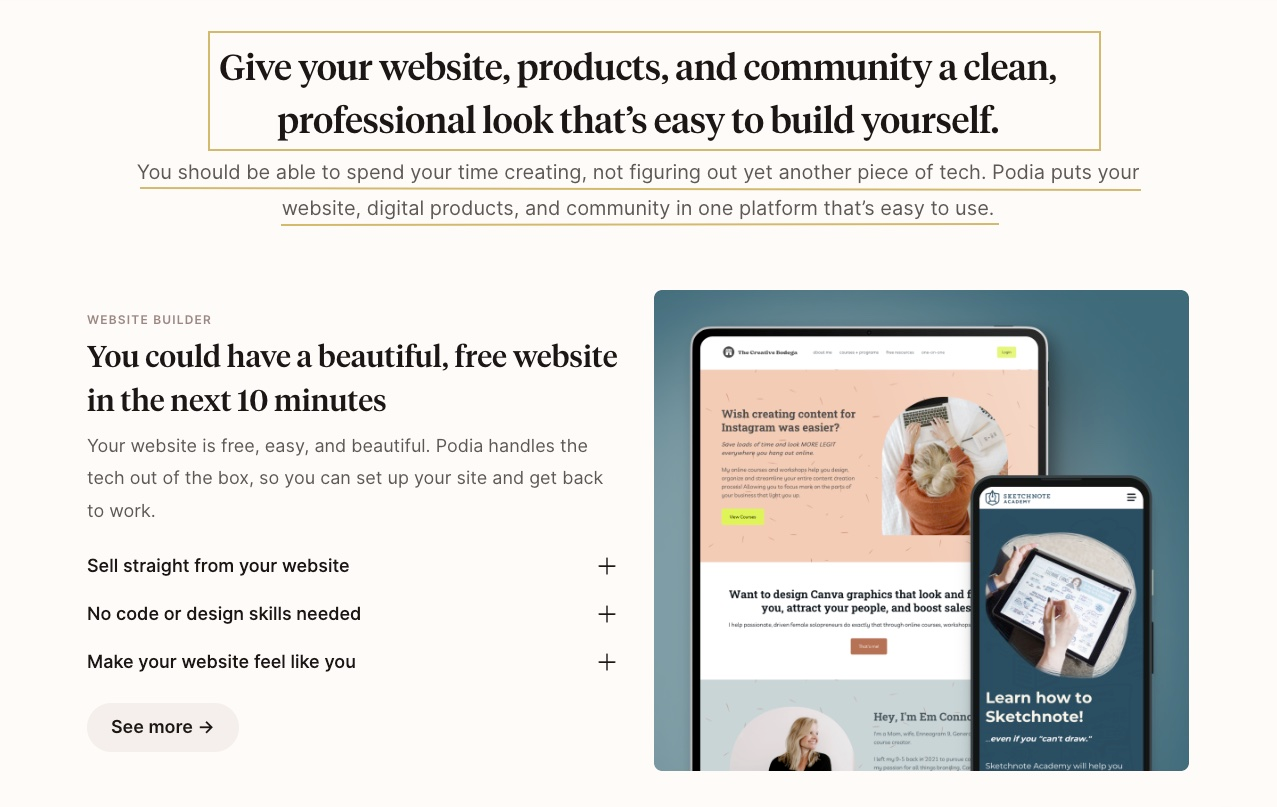 Before diving into the Podia review, it's important to discuss the platform itself. What is Podia? It's an all-in-one marketing and sales platform that allows you to sell online courses, webinars, digital content, products, memberships, and more.
As this Podia review will discuss, the platform allows you to foster communities and nurture a base of customers and students. Overall, Podia.com is versatile and affordable, but it has many competitors out there. Below you can read about the features Podia offers its users.
Features
When researching any all-in-one platform like Podia, the features are typically the most important information. You need to know what the site can do for you and your business, so this section of the Podia review looks at the Podia features available to users. Remember that not every feature is available to every user, depending on your chosen Podia price plan.
Website Builder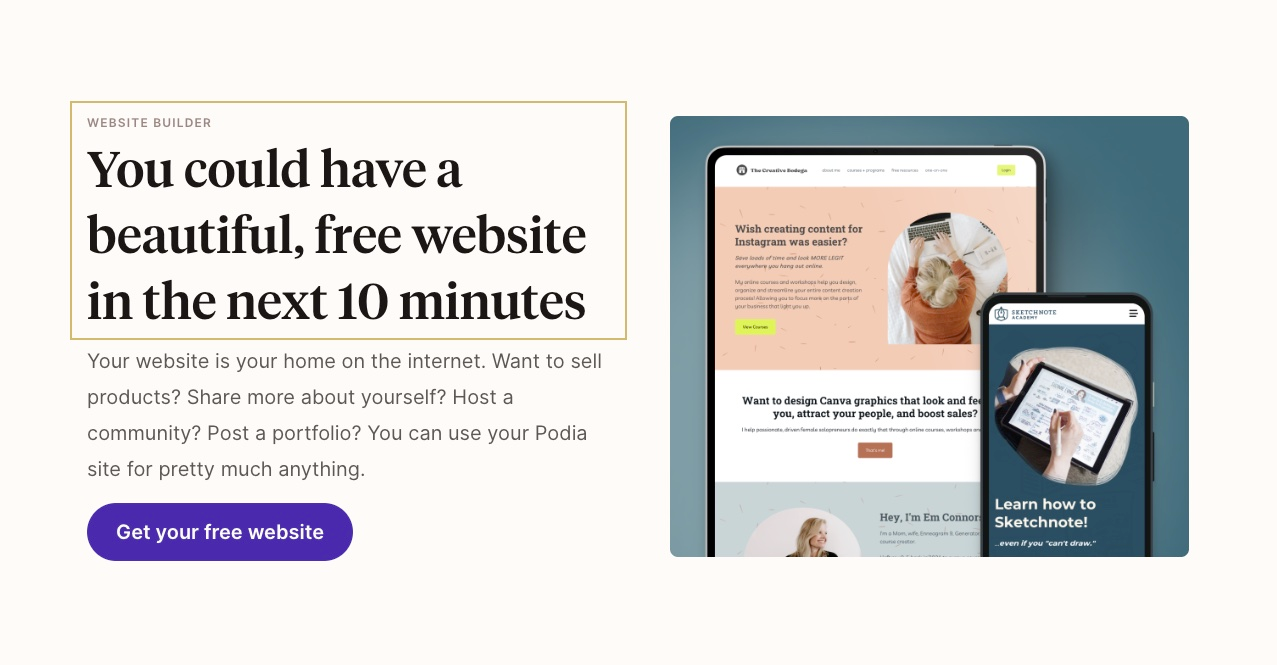 A presentable and functional website is essential for a successful business in the digital world. The Podia website builder offers decent customization, so you can build the site you imagine. Many website builders offer cookie-cutter website designs and a one-size-fits-all approach.
While Podia isn't the most customizable website builder on the market, it offers opportunities for personalization, so your website won't look exactly like everyone else who uses it.
No matter which Podia price plan you choose, you get unlimited website pages, so you can craft an intricate site with easy navigation. And Podia is particularly excellent at helping you create websites that look stunning and accessible on both desktop and mobile devices.
Best of all, you don't need an ounce of coding experience to build a gorgeous and functional website. Building a website can be intimidating, as there are many ins and outs to navigate. But Podia streamlines the process so you can build intuitively and efficiently.
Digital Products and Downloads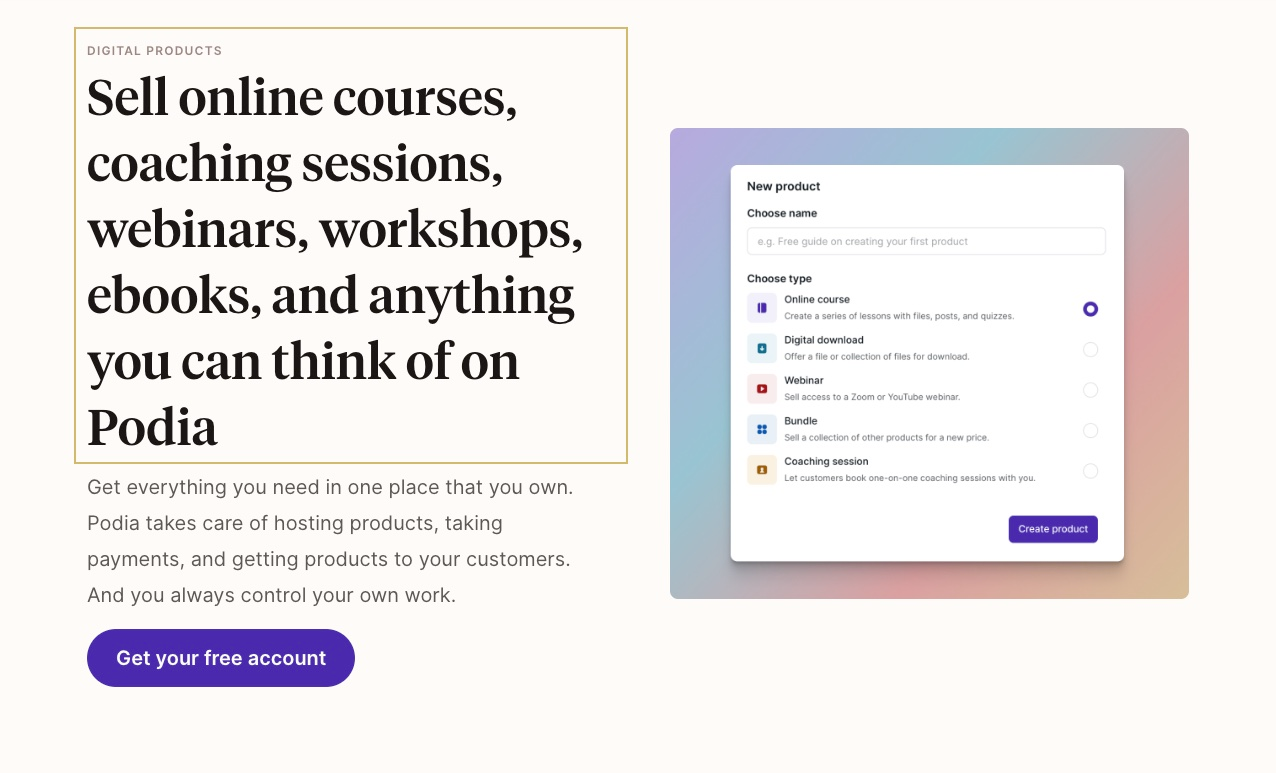 Podia helps you to upload and sell digital products from your website, saving you money and getting your product out into the world. You can sell or offer free products like eBooks, audiobooks, PDFs, cheat sheets, checklists, and presets.
You can sell almost any digital content you can think of. Whether your digital content is your main offering or you use free downloads to entice customers and foster a relationship, Podia can help you do this easily.
The opportunities are endless with Podia's digital products. You can bring in new customers with digital coupons or upsell your Podia courses and other services by offering digital products alongside them.
And there's no limit on how many digital products you can upload or sell! You get instant payouts when people purchase your digital products, and you don't have to pay any transaction fees if you're on a paid Podia price plan.
Community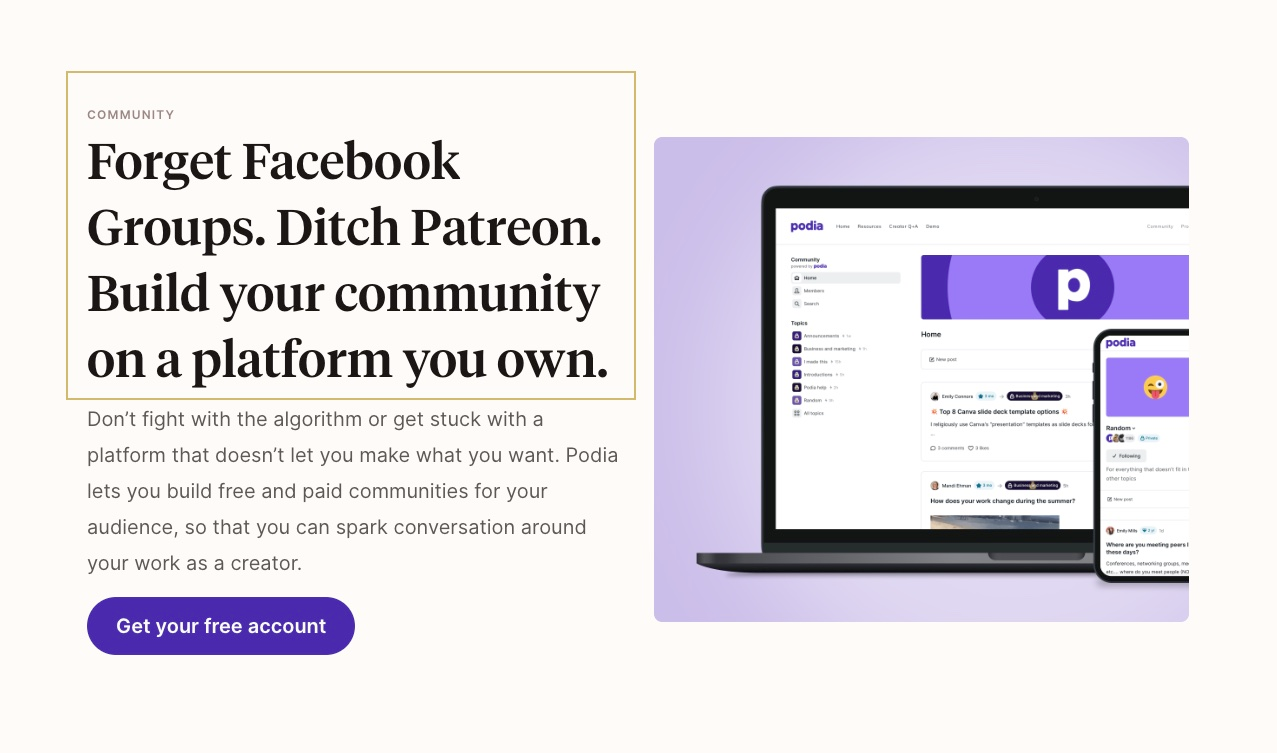 Podia has community features where you can gather your audience and create memberships for people interested in your business and services.
The community features can replace other platforms like Facebook groups or Patreon accounts, helping to bring your audience to one place where they can also browse your products and other services.
You can choose conversation topics, drive discussions, show multimedia presentations, and give members access to your priced products for free! Turning your business into a community encourages customers and potential clients to engage with your content, leading to more traffic and interest.
You can bring everyone to your website using one of these community features and have more control over what's visible and where open conversations lead. Whether you want to offer a free group for your customers to connect with or a paid membership for your services and knowledge, it's easy to do this on Podia.
You can also access customer information when people sign up for communities and memberships, such as email, product interest, phone numbers, and more.
Online Courses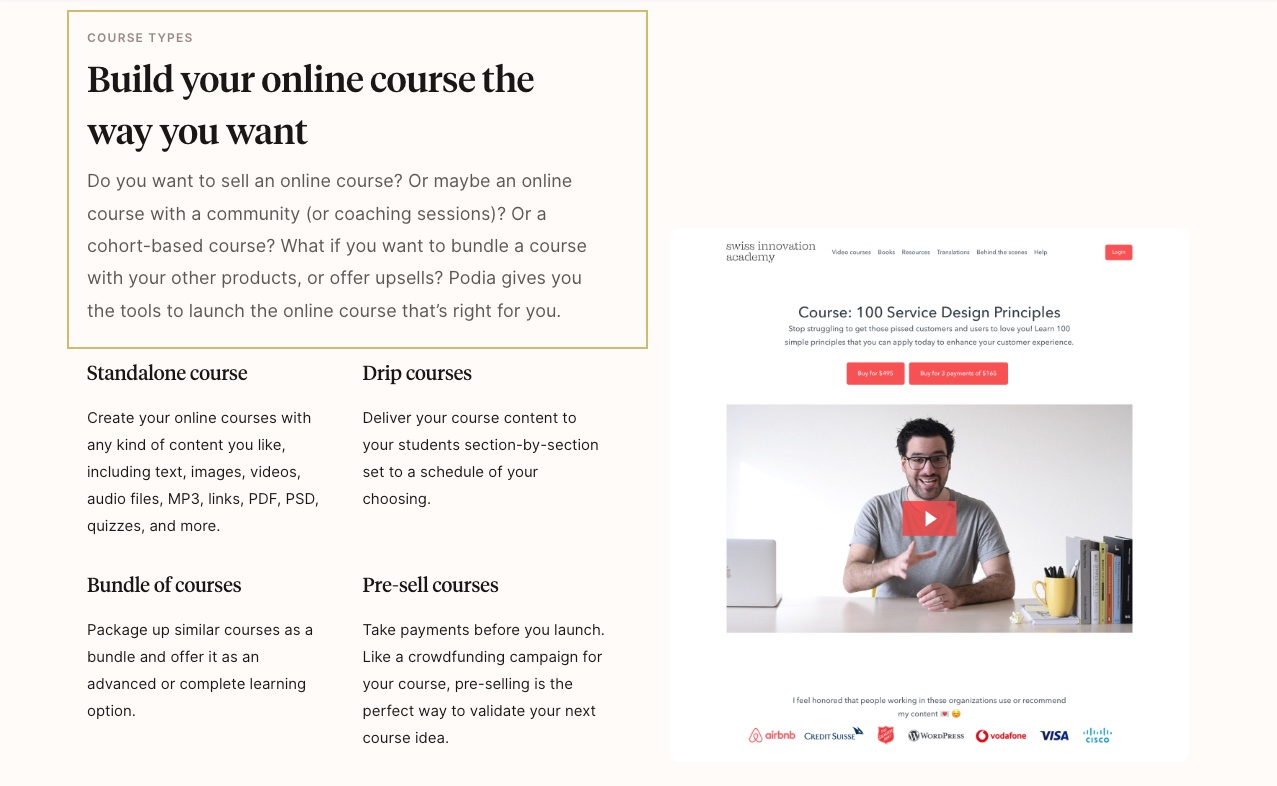 Online Podia courses are hands down the most popular and successful feature on Podia. The all-in-one marketing and business platform originally focused on creating a space for teachers and tutors to reach students and impart their knowledge digitally.
The way you can sell courses and teach people is super customizable, making it simple to personalize your teaching approach and inform your students the best you can. Offering drip courses is easy to engage customers who don't want to commit to a full Podia course, as you can sell the course in small portions.
Podia allows you to send quizzes to students to ensure they're absorbing the information properly and host video calls to help you communicate more directly with your students. Whether you sell drip courses, long-term bundles, or pre-sell courses to help crowdfund money to get started, Podia has it all.
And everything is unlimited. You can have as many students, content, and courses as you desire to reach as many people as possible. There are no transaction fees on paid plans, so you can upsell every order with an extra Podia course bundle or digital product.
You can also offer payment plans to students who may not have the means to pay the entire course fee at once, giving your business and brand a flexible and understanding reputation.
Webinars and Workshops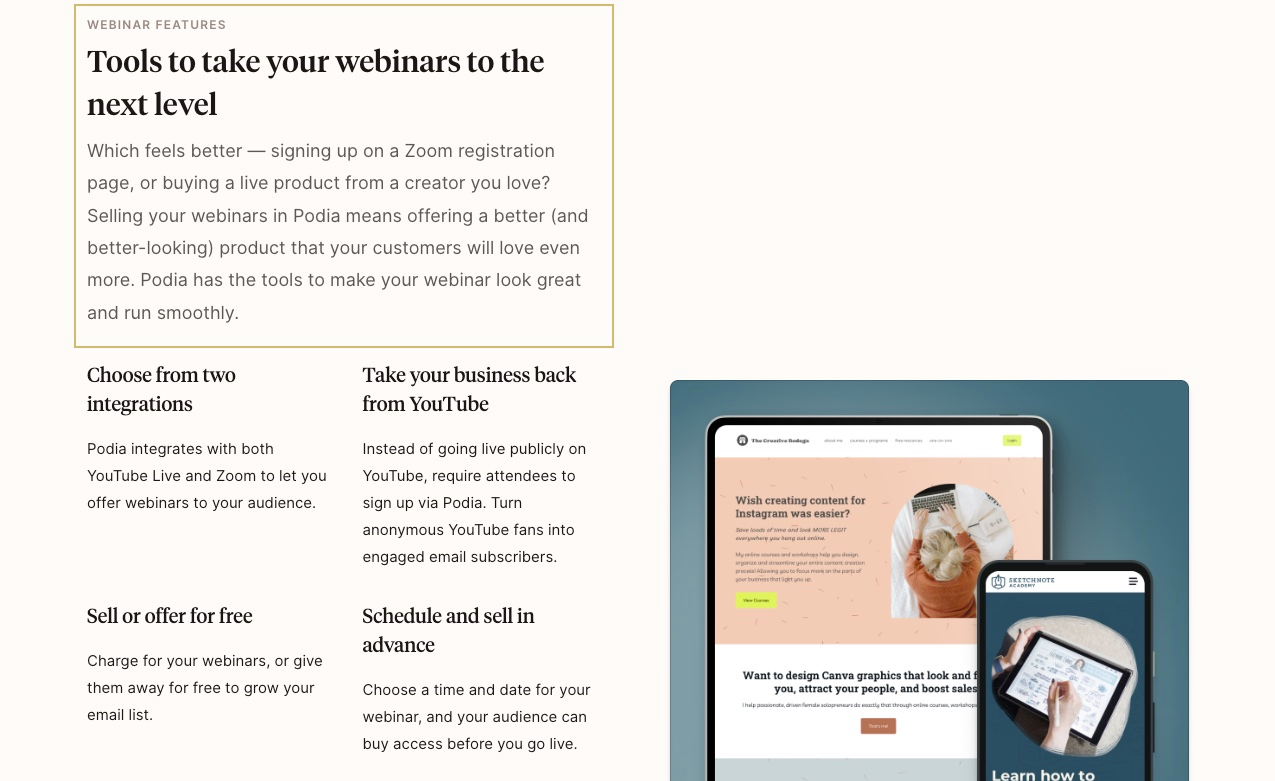 Webinars and workshops are similar to online courses but work slightly differently. In the end, both Podia features help you educate people interested in your expertise.
Webinars and workshops are geared toward one-on-one teaching rather than large classes that can be less personal and hands-on. Podia integrates Youtube Live and Zoom, so you can execute webinars through the most convenient platforms while still utilizing your Podia platform.
Youtube subscribers are often anonymous, so you miss out on beneficial client information. But when they sign up via Podia, you get useful customer information like emails, phone numbers, and names.
Like the online courses, you can schedule and sell webinars and workshops in advance, in bundles, or offer one-time workshops to help someone with specific information. The webinars and workshops can even earn you passive income thanks to charging for replays.
So you can record one helpful webinar and make money offering it for years if people keep replaying it or sharing it with others. Use these webinars to foster coaching relationships or act as a digital consultant.
Coaching Integrations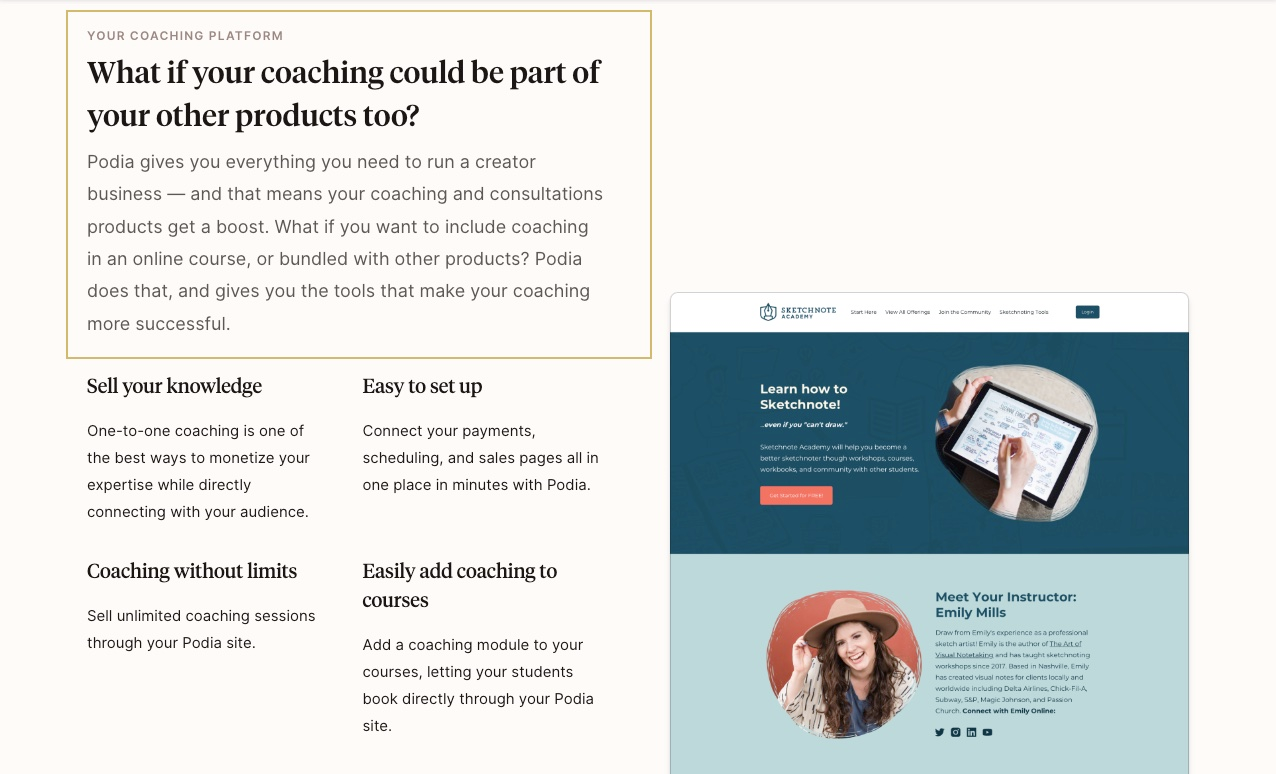 One of the more niche features of Podia is the coaching integrations. As mentioned, Podia places a lot of its focus on helping experts in their field impart their wisdom to eager students. Live coaching sessions with Podia go beyond just webinar courses, allowing you to create a truly personal experience for your mentee.
Podia integrates coaching programs with several scheduling platforms, such as Calendly, Acuity, YouCanBookMe, and SavvyCal. You can sell unlimited coaching sessions all in one place or incorporate custom links to sell coaching sessions.
Like webinars and online courses, Podia makes it uncomplicated to upsell digital content and coaching sessions.
With Podia's efficient process, students can check out in less than ten seconds, and you don't have to pay any transaction fees if you're on a paid Podia price plan!
Coaching integrations can also work hand in hand with your online courses, allowing your students to opt for a more one-on-one approach if they feel they need it.
Affiliate Marketing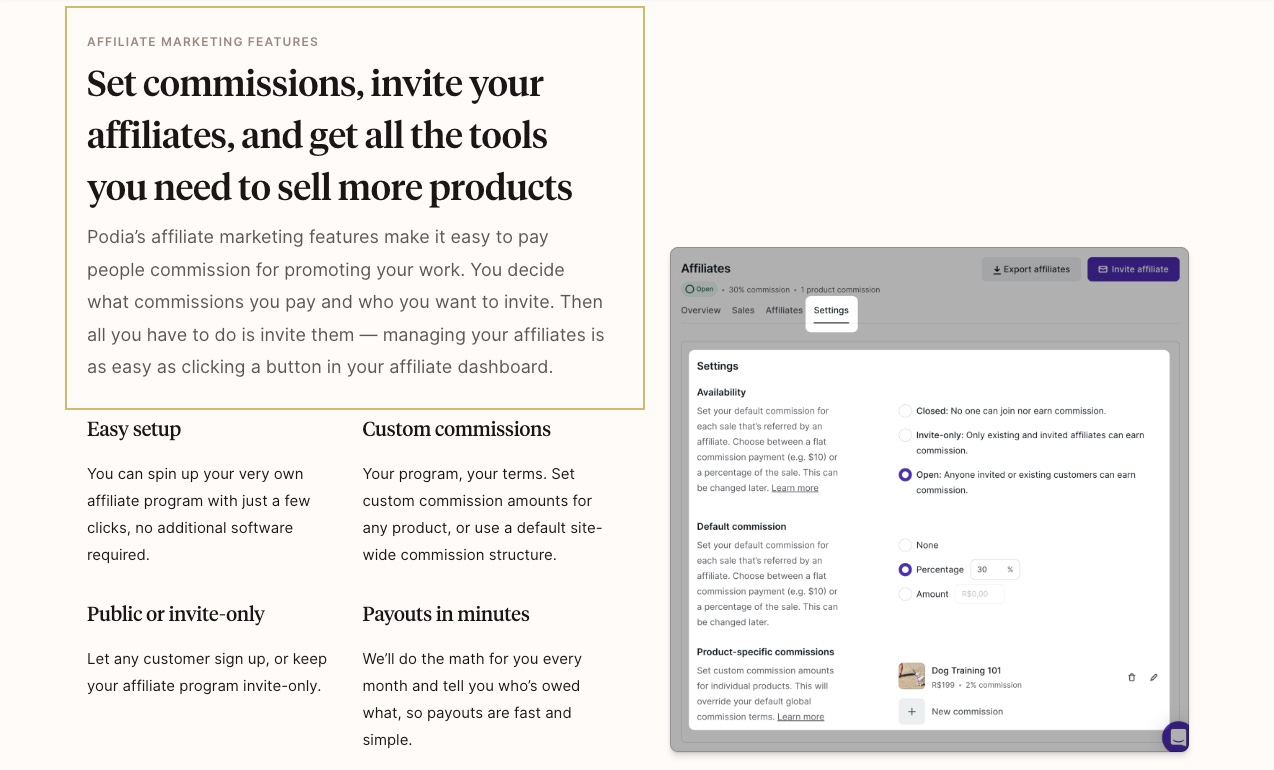 Affiliate marketing is one of the top ways content creators make money nowadays. Podia makes it easy to get paid via affiliate marketing. It's a breeze to set up, which can often be the most challenging task for people who aren't digitally apt.
But with a few clicks and no additional software, you can start making money in just a few minutes. You get your affiliate payouts in minutes, so no waiting around or tracking your money on complex Excel spreadsheets.
Payouts are super fast and simple. You can also create your affiliate marketing program on your terms, so you can customize commissions or use a default commission structure throughout your website.
Affiliate programs can be public on Podia or invite-only, giving you tons of control over your marketing programs.
Email Marketing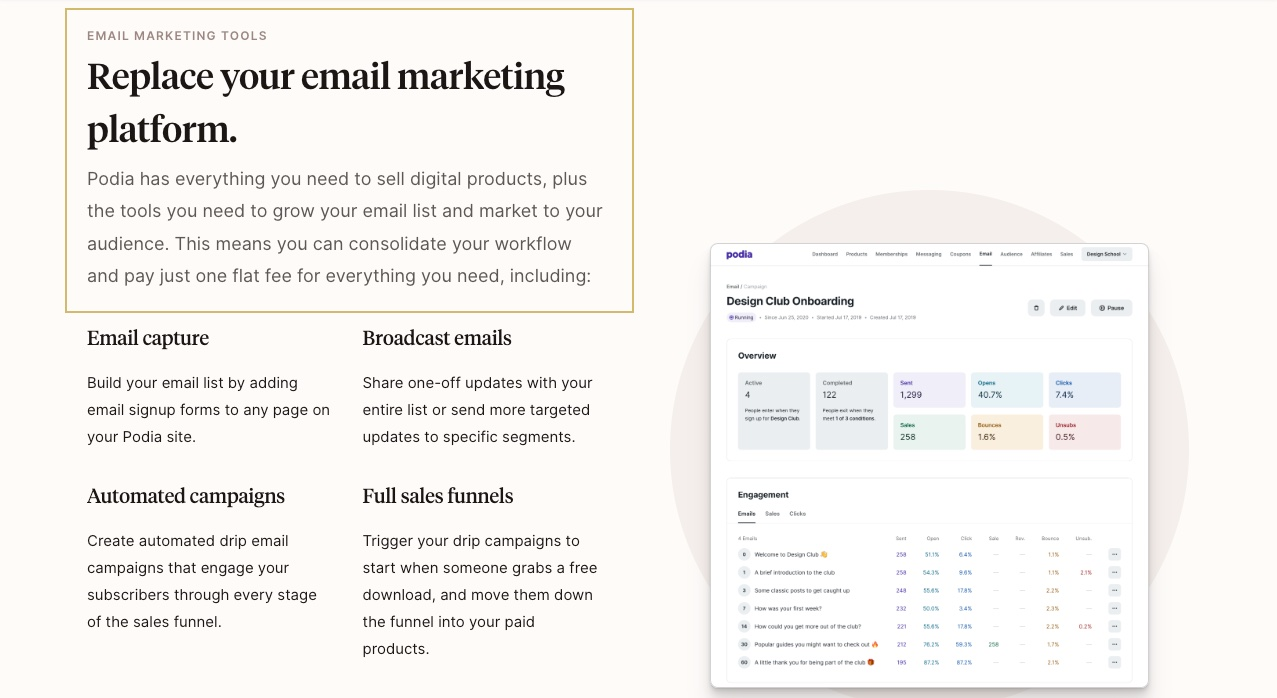 Loads of sites and platforms offer bulk emailing and help with email marketing campaigns. But when you use Podia, you don't have to use a separate email platform, as Podia has one built-in that's efficient and easy to use.
Share one-time updates through broadcast emails, alerting customers to important information and changes to your business or platform.
Broadcast emails go out to your entire subscriber list. But for something more targeted and personalized, you can send segmentation emails with campaigns that specifically pitch relevant items or services to subscribers who have made previous purchases.
Podia also helps you craft email marketing campaigns and drip campaigns so you can keep cold and active customers engaged. Sales funnels help create these campaigns and target the appropriate audience, leading to more engagement and sales.
Embeds
Embeds may sound foreign to those with little e-commerce experience, but they are a simple concept once you start using them. Embeds allow you to display your checkout page and make sales directly from a button, product card, or link.
If you have products on other platforms like WordPress, Squarespace, Wix, or LeadPages, customers can purchase without being rerouted to your Podia or another page. Embeds make the checkout easier and more comfortable for your customers, as many prefer not to make purchases on a new webpage.
Embedding your entire checkout flow wherever you want makes your business feel more secure to customers and makes it more likely they'll complete the purchase. The checkout process seamlessly transitions from phones to tablets to computers without making someone leave the page.
Messaging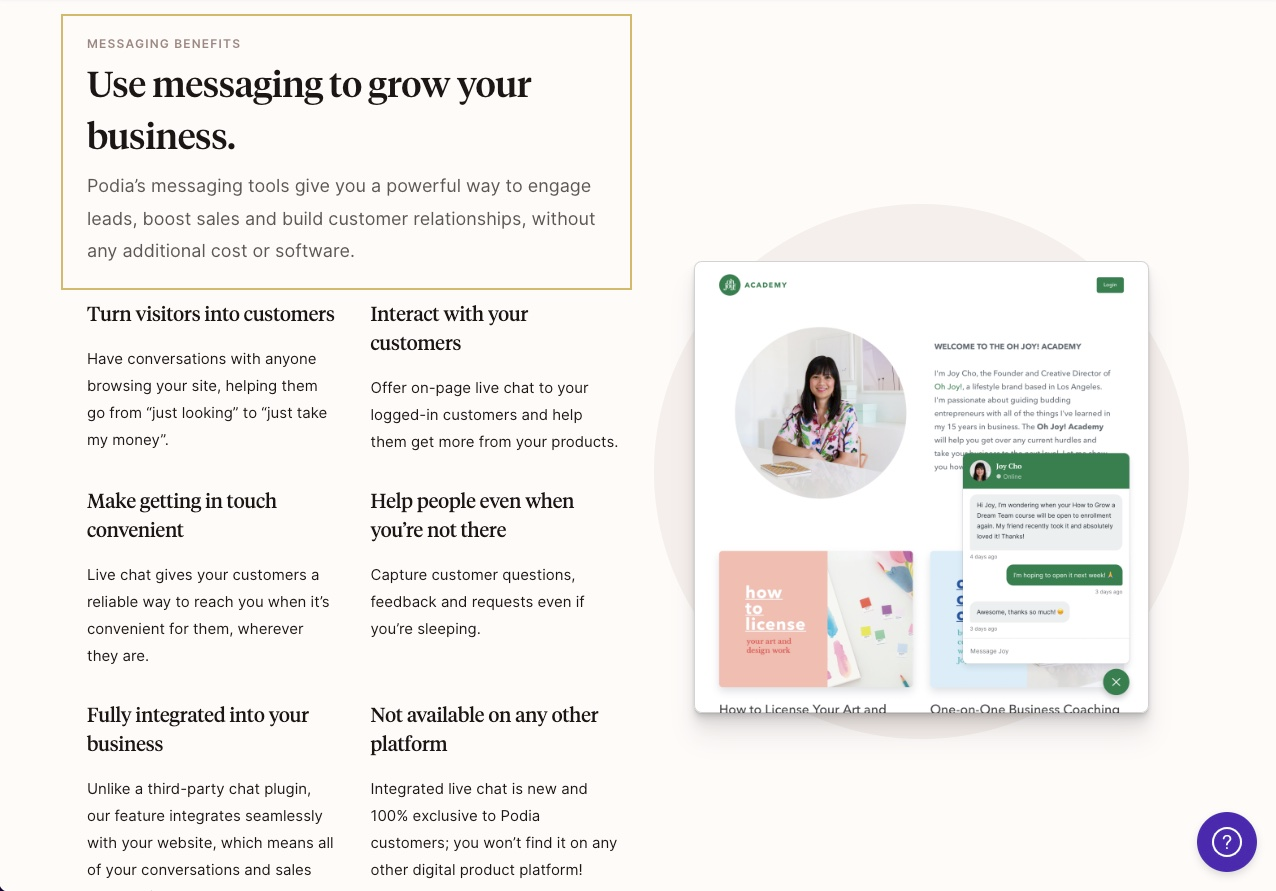 Like many all-in-one marketing platforms, Podia allows you to add a live chat feature to your website page.
Live chat features are convenient for visitors and customers. You can interact with visitors in real time or set up auto-replies so people can still feel heard and get answers when you're not around to answer them.
Messaging features from Podia make your website and business more personable and accessible, so customers don't feel like they're interacting with a robot. Messaging is also an opportunity to turn a curious visitor into a loyal customer!
Live Chat Support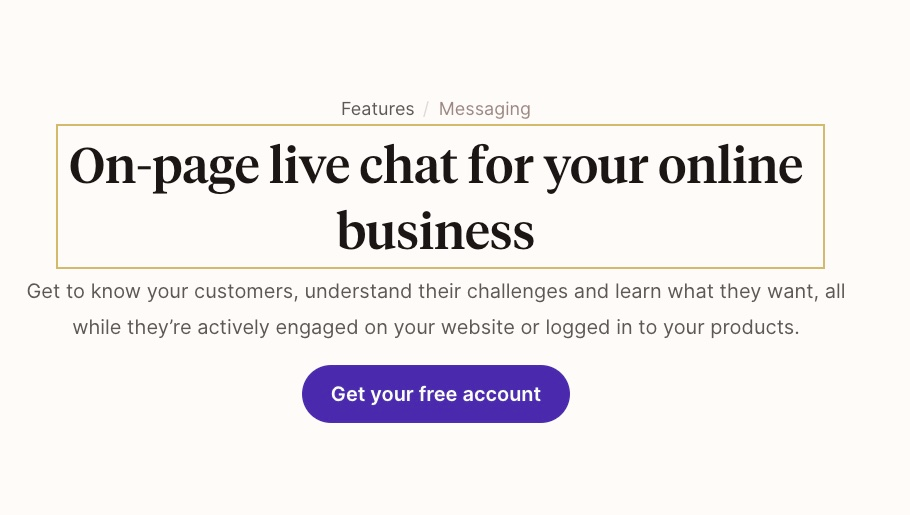 The Podia website helps you create a live chat feature to reach your customers, but they use the same technology to ensure Podia works for you. And you get to talk to real people, not robots and auto-replies, so you can get the help you need as quickly as possible.
The Podia people know that not every business owner is tech-savvy and a genius website builder, so they're ready to walk you through some of the more complex processes. Luckily, Podia is generally pretty straightforward.
But if you hit a speed bump, you can access a live person via the chat system during business hours and on weekends or email someone and get a response within 24 hours.
If you want to figure it out on your own, use the self-service help center with loads of informative articles to walk you through Podia's features.
Weekly Demos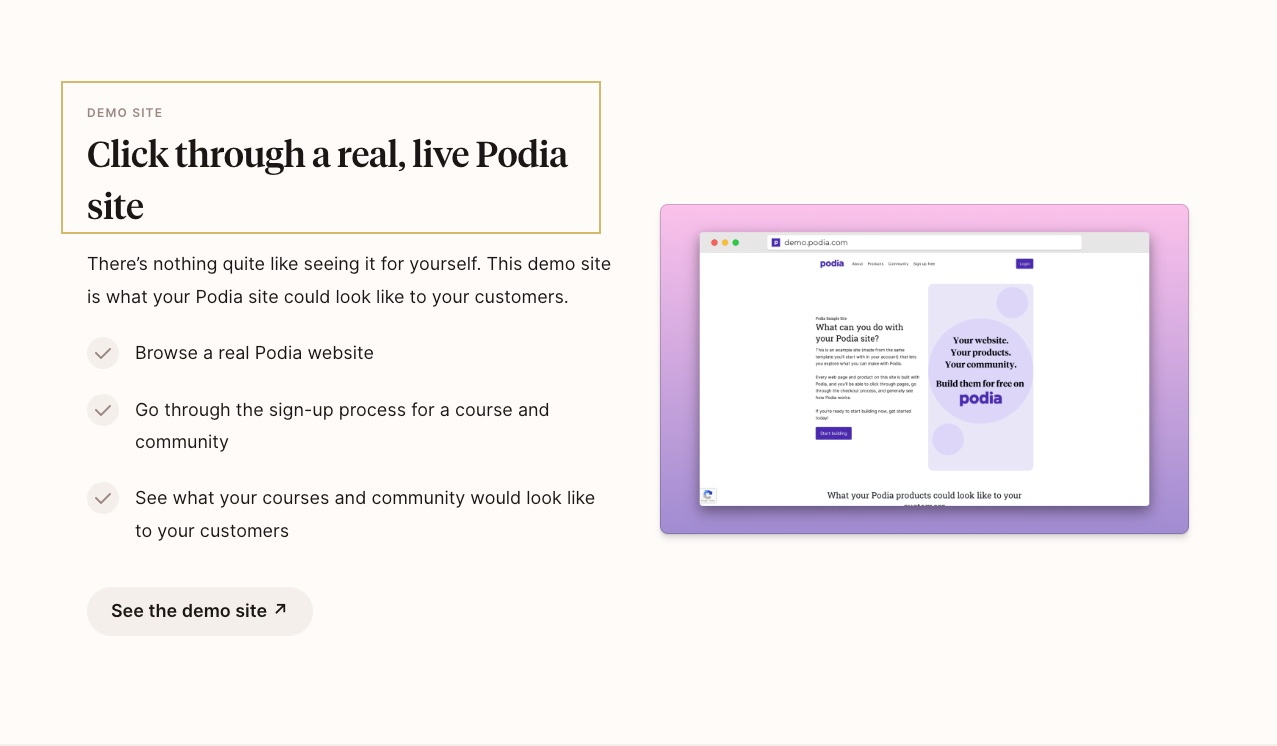 If you don't have any specific questions but want to learn more about the ins and outs of Podia features, you can watch the weekly demos from Podia that go live every Tuesday!
These live demos allow you to browse a real Podia website, experience the sign-up process for a community or online course business and see what the website, courses, and community look like to your site visitors.
Looking at your site and features through a visitor's eyes is crucial to developing a user-friendly site that engages people and keeps them interested in your business and product.
These weekly demos will show you video tours of Podia so you know how the site should look and what features you may be missing out on. Not every week, but most live demos also wrap up with a Q&A session, allowing Podia users to ask questions altogether in one community.
Resource Library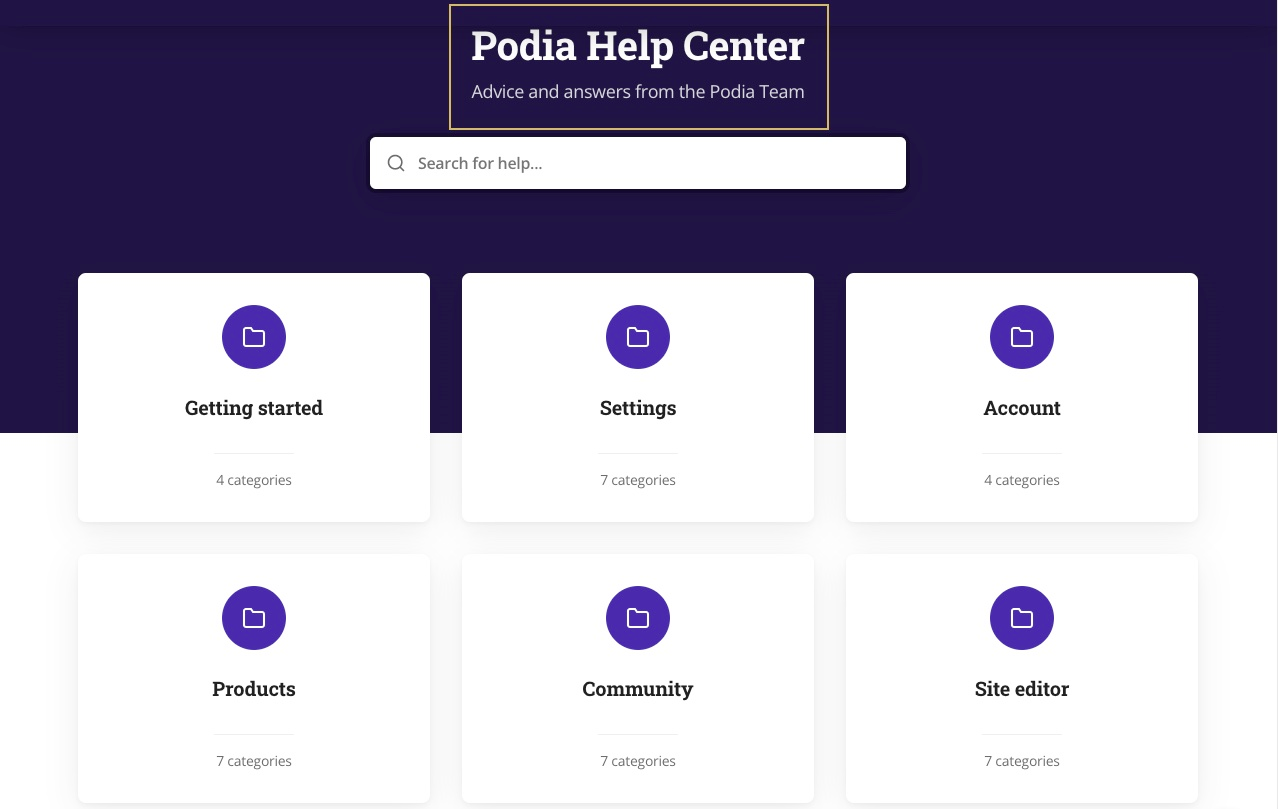 In addition to helping support employees and informative demos, Podia also gives its users a massive library of articles and manuals that can walk you through different Podia features and applications.
The help section on Podia features FAQs and answers from real users and the Podia team. The articles and information range from coupon use to audience management, sales processes, site editing, and everything in between.
So if you're fiddling with your Podia app or website at 2 am, you can still find helpful information on the site to guide you through your site development or functionality.
Podia Pricing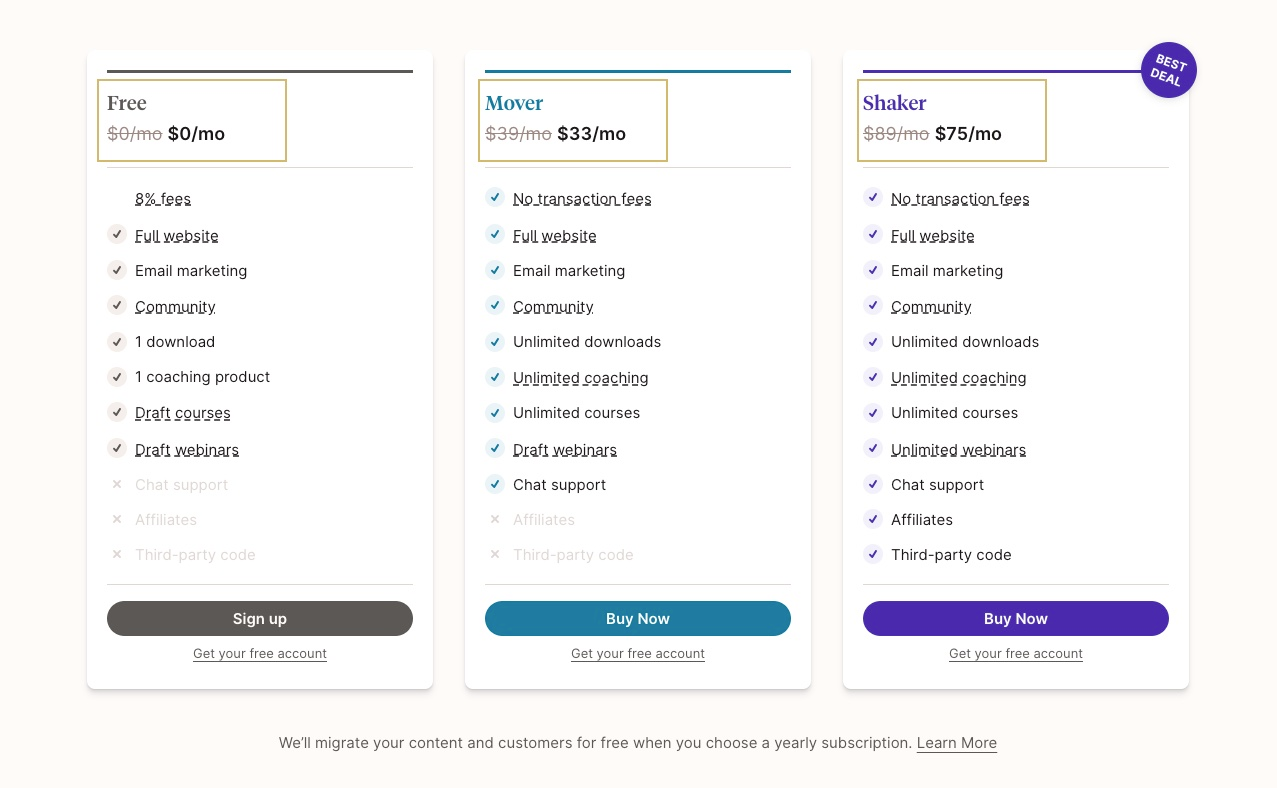 Podia has a free membership, and three paid pricing plans that give you access to more features.
Podia allows you to pay monthly, cancel at any time, or pay yearly and save some money on your membership. This section will highlight what features come with each plan and explain the pricing options available.
Free
The free plan appeals to many because, well, it's free! The free plan is excellent if you're still exploring different all-in-one platforms and haven't decided which site will work best for you. You can sign up for Podia at no charge, so no credit card is required, and get an array of helpful features to build your business online
The most notable difference between the free and paid plans is that you must pay transaction fees on all purchases made on your own website. Podia charges an 8% transaction fee, which is relatively high and can significantly reduce your bottom line.
The free plan also doesn't allow for affiliate marketing programs, so it limits the money you can make, even if your main source of income is webinars and courses.
The free plan gives you a taste of Podia, but for most business owners, it isn't enough to run a functional website. But as mentioned, if you're still shopping around for an all-in-one platform, it's worth checking out the free plan and exploring the site.
This plan includes the following features:
Full website & membership site

Email marketing

Live chat

Community

One download

One coaching product

Draft courses

Draft webinars
Mover
The Mover plan is $39 per month or $396 per year, which comes to $33 monthly. Compared with other all-in-one marketing and business platforms, the pricing is affordable, but the features are limited. The Mover plan gives you unlimited downloads, unlimited coaching, unlimited courses, and no transaction fees, which is a significant step up from the free plan.
If your focus is teaching, the Mover plan is an excellent choice. You can sell content, coaching, and courses for no fees, allowing you to make decent money through your expertise.
However, this Podia plan does not give you access to the affiliate program or embedded checkouts. If your main source of revenue comes from product sales rather than classes and coaching, The Mover plan will likely not meet your needs.
With the Mover Podia price plan, you get the following features:
No transaction fees

Full website with sales pages

Email marketing

Live chat

Community

Unlimited downloads

Unlimited coaching

Unlimited courses

Draft webinars
Shaker
The Shaker plan is the step up from the Mover plan, allowing you more opportunities to sell products and create courses or webinars. The Shaker plan costs $89 a month or $900 a year, coming to just $75 per month. The difference in price if you pay yearly is significant, so many people opt for this payment plan.
With the Shaker plan, you can access practically all the website-building features and e-commerce options. The only thing you don't get with the Shaker plan is comprehensive support from the Podia team. You still get help via chats, emails, and demos, but you don't get a personalized welcome to the Podia site.
When you sign up for the Shaker plan, you get:
No transaction fees

Full website

Email marketing

Live chat

Community

Unlimited downloads

Unlimited coaching

Unlimited courses

Unlimited webinars

Unlimited video hosting

Affiliates
Earthquaker
Last, and maybe least, is the Earthquaker plan. The Earthquaker plan costs a steep $199 per month or $1,992 yearly, averaging $166 per month. This membership option is more than twice the cost of the Shaker plan, and they have almost all the same features.
The main difference between the Shaker and Earthquaker plan is the help you get from the Podia team. With the Earthquaker plan, you get priority support, meaning your emails will be answered first and your chats answered as soon as possible.
You also get an onboarding call, meaning you'll have a video or phone call with a Podia expert to introduce you to the platform and help you hit the ground running.
In addition to this helpful welcome call, you also get a monthly creator call, where a team member will help you brainstorm and enhance your website's features and functionality. While the extra help makes everything much easier, it costs an extra $90 to $110 monthly. This extra assistance is not worth more than $1,000 for most business owners.
The Earthquaker plan includes:
No transaction fees

Full website

Email marketing

Live chat

Community

Unlimited downloads

Unlimited coaching

Unlimited courses

Unlimited webinars

Affiliates

Priority support

Onboarding calls

Monthly creator call
Podia Pros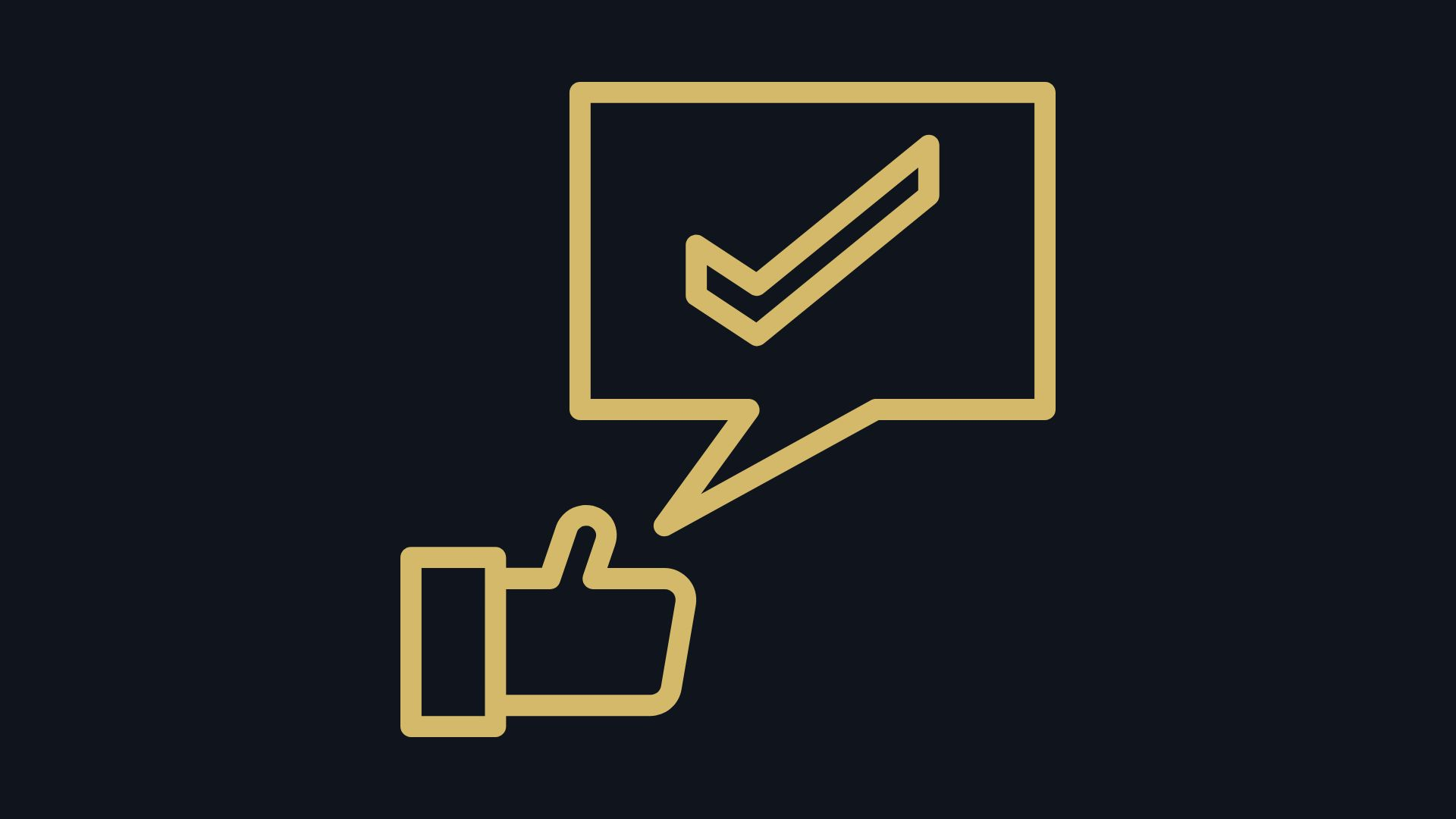 Below is a summary of the pros most mentioned in Podia reviews reported by real users to give you an idea of the benefits of using Podia.
Supports unlimited products and courses

Refined user experience

Several piercing options, including a free plan

Pre-launch mode for courses and products

Built-in quizzes, certificates, and communities

No transaction fees with paid plans

Podia's email marketing features

Effective integration

Podia app and mobile versions

Affiliate marketing tiers and specific commissions
Podia Cons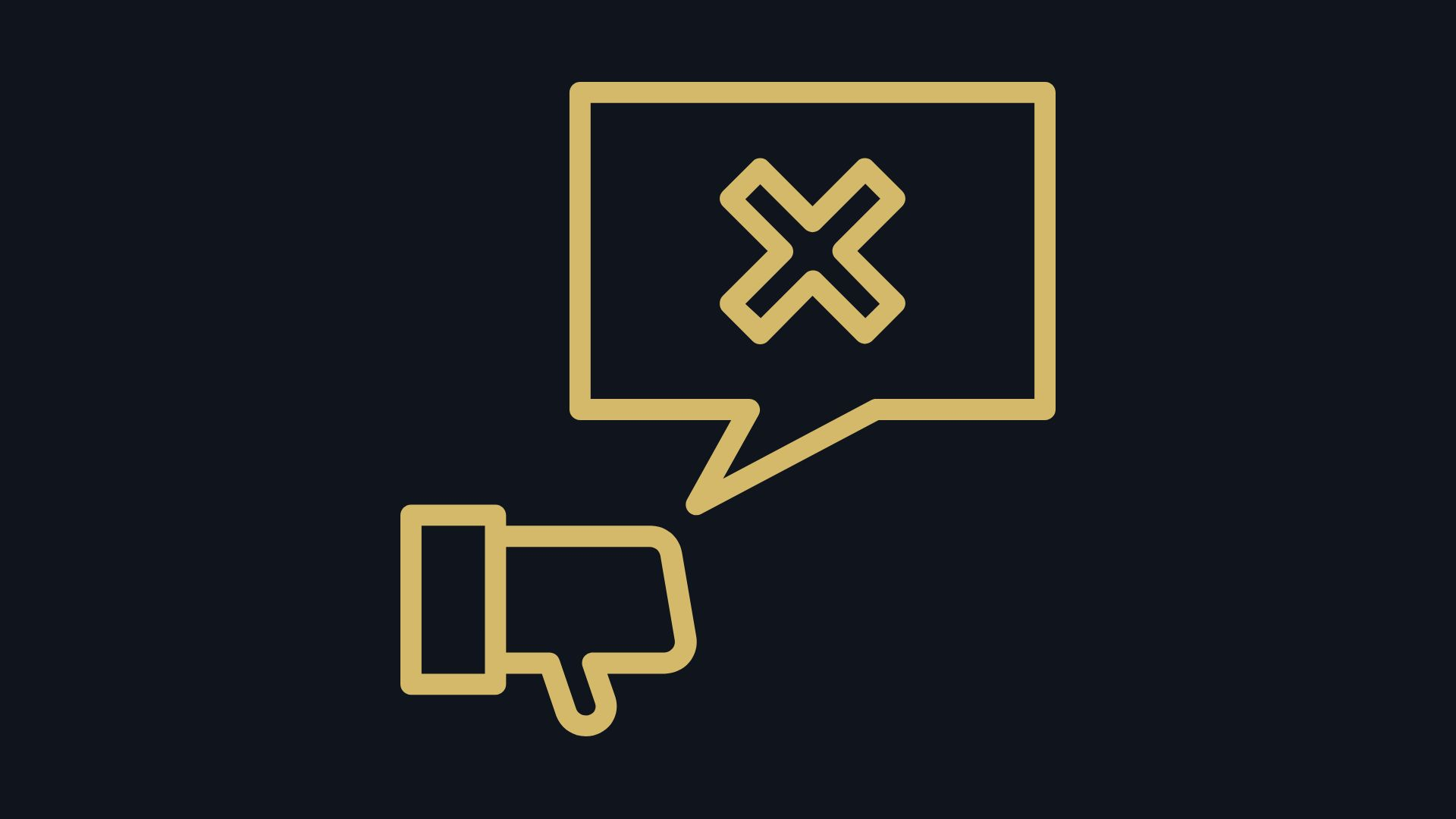 This section lists the most mentioned cons in Podia reviews, showing the downsides.
Lack of email personalization

No course blueprints

Lack of sales and shopping funnels

No course-compliance features

Moderate Podia support

The top-tier plan is expensive
Podia Website Examples
Before you sign up for Podia.com, it can help to take a look at live Podia examples. Podia website examples will give you an idea of what is possible and how customizable the websites are, as none of the sites look the same!
Check out three stellar Podia examples below, and start imagining what you could do with a Podia membership.
Food Blogger Pro is an excellent Podia website example because it showcases how enticing a membership can be on one of these websites. The website is colorful but simple, so there's no fuss when navigating the site and signing up.
The key takeaway from the Food Blogger Pro site is that the owner put their niche front and center on the landing page. Everything they do and everywhere you navigate on the website directs you back to their niche, even if that means deterring other demographics from engaging.
16Personalities is all about customizing and personalizing the user experience. When you hit the page, it encourages you to take a custom quiz defining who you are, enticing visitors to engage immediately.
The site has a user-centric feel but is still colorful and unique, fostering a fun aesthetic for people who check out the site. The site displays tons of user reviews, giving people an idea of what this service can do for them.
16Personalities uses the free quizzes and paid memberships, capturing more clients using Podia's various features. The site also has a casual and inviting aura, making it a comfortable place for visitors to explore.
Yourpreneur has a powerful landing page that creates an impact using multimedia and images. It immediately creates a story with you at the center of it. The word "you" is plastered all over the website, making you the focus of every page you visit.
Yourpreneur also utilizes all the features, like free quizzes, community memberships, selling online courses and coaching, digital products, and multimedia integrations. They have a blog, book listing, assessments, a summit, and an academy!
Podia Alternatives
If Podia doesn't sound right to you, there are plenty of alternatives. Below are the top three alternatives worth researching if Podia doesn't float your boat.
Kajabi: a better platform for testing student knowledge

Thinkific: better for communities with a simpler design

Teachable: more powerful learning tools and capabilities
Final Thoughts
Most Podia reviews are positive, showcasing how satisfied Podia users are. Specifically, people recommend the Shaker plan as the best deal for most online business owners, so there is no need to waste money on the Earthquaker.
While Podia has loads of features, it is still one of the simpler all-in-one platforms. If you want a super intricate and intense platform where you can edit the nitty gritty of every website page and feature, Podia may not be enough for you.
But if you want something simple that will allow you to teach classes, sell products, and create a beautiful website, Podia should be plenty.
Walter Voronovic shares accurate, honest & pragmatic information on how to use the internet to build profitable digital business assets. 
Digital Marketing Guides & How To's SEO Guides & How To's Ad Tracking & Attribution – Increase ROAS With Accurate Reports Graphic Design Business Ideas
Read More »