7 Best Sales Funnel Builders In 2023: Reliable & Cheap
Using a sales funnel is an effective way to strategically acquire leads, and customers & increase sales for your business but finding the best option is tricky as there are many tools and it is a saturated market. 
There are many differences between the best sales funnel builders; they offer different prices and benefits. Most sales funnel builder software excels in certain areas and falls short in others.
Ease of use will be covered, as some web builders are more complex and require a learning curve.
Read along to find out which is the best sales funnel software tool for your business.
What Are the Best Sales Funnel Builder?
Everyone will have different needs for their funnel-building software, though some are better due to offering more features. Others value ease of use over features.
Below are the seven best sales funnel builders available on the market today.
ClickFunnels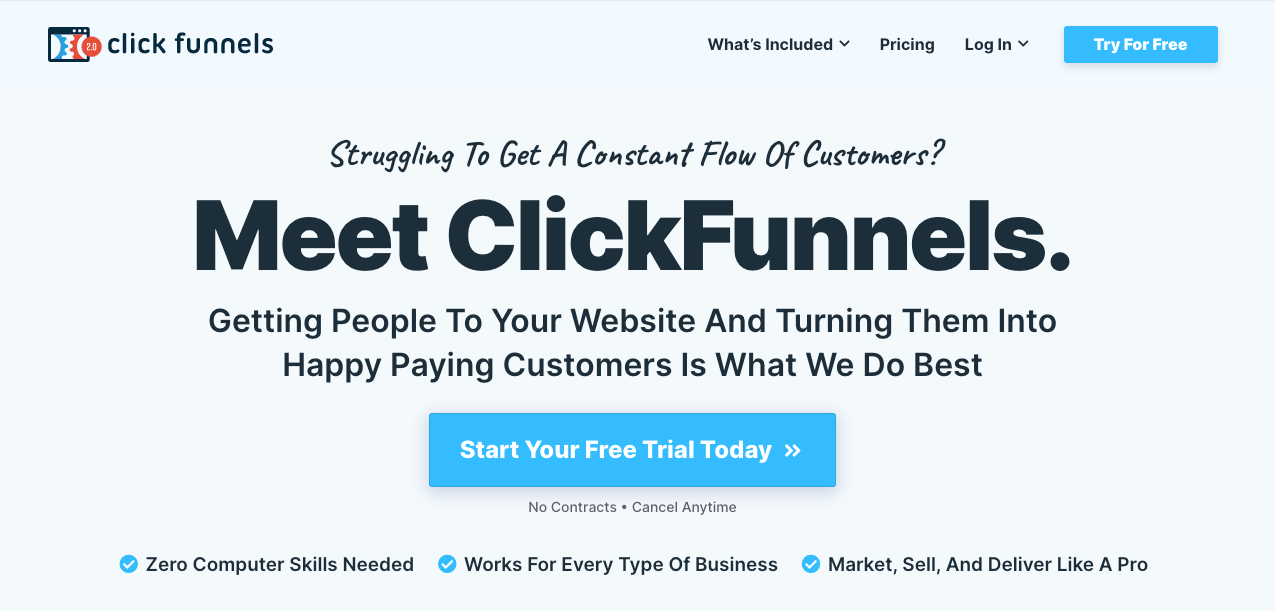 Overview
ClickFunnels is an excellent choice for beginners and experts alike. Features are plentiful and easy to manage. 
The sales funnel features are impactful and empower you to grow your business, and the plans scale great with growing companies, meaning you can use ClickFunnels in the long run.
Among all entries in this list, ClickFunnels has the handiest features, and they also include online courses to help you get the most out of their sales funnel software.
Highlights
The main highlight of ClickFunnels is its excellent landing page-building capabilities. You can create landing pages in minutes instead of hours with the help of their drag-and-drop editor.

Building sales funnels can be a time-consuming process but is much faster with the aid of templates. ClickFunnels offers many templates that help you get started.

Automated email marketing campaigns are easy to set up and allow you to promote your business. 

Membership websites are possible with CickFunnels; they are commonly used and intuitive to create and manage.

Third-party integration with ClickFunnels is fast to connect and has no complex requirements.
Pricing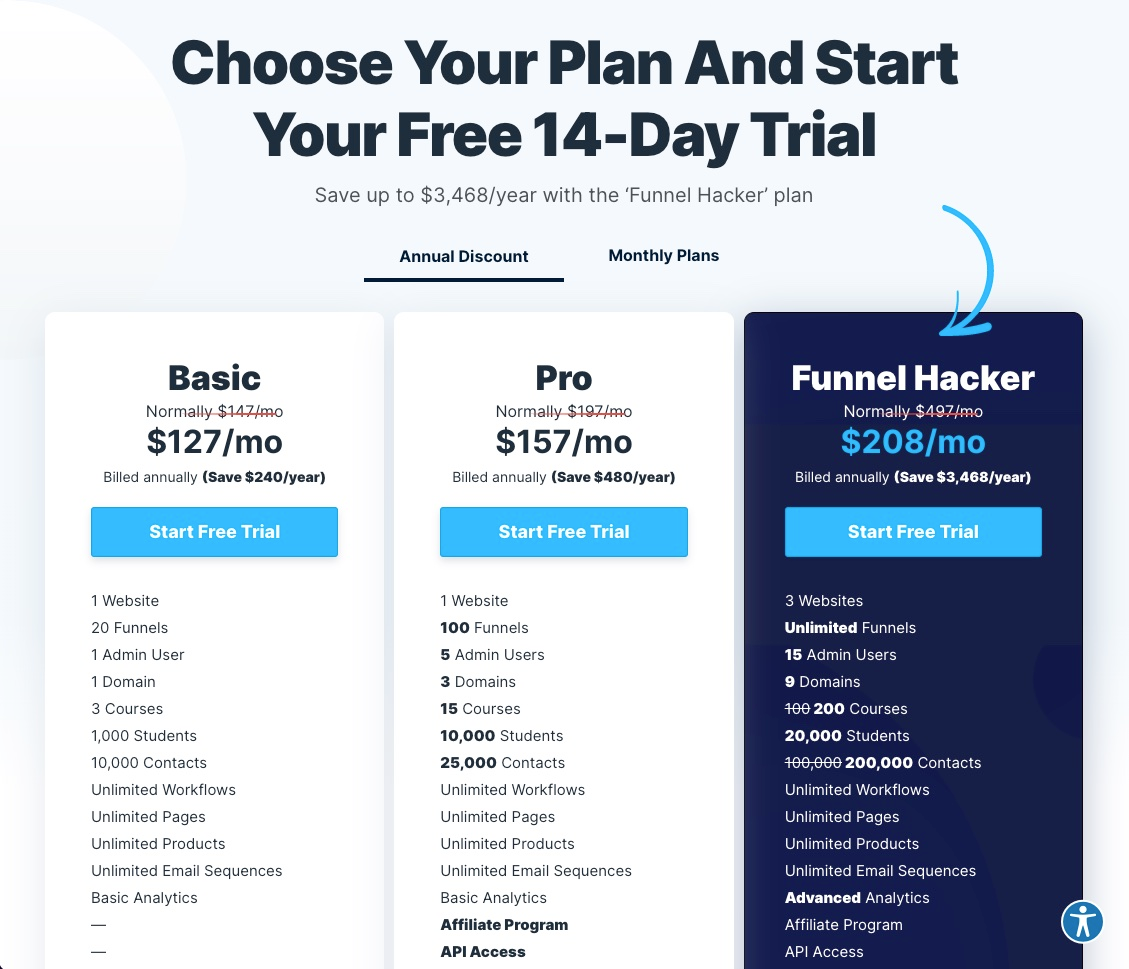 All plans receive a discount when billing annually; the following prices do not include this.
Basic Plan
$147 a month – 1 Website, 20 Funnels, 1 Admin User, 1 Domain, 3 Courses with 1,000 Students.
Pro Plan
$197 a month – 1 Website, 100 Funnels, 5 Admin Users, 3 Domains, 15 Courses with 10,000 Students.
Funnel Hacker
$297 a month – Unlimited Funnels, 15 Admin Users, 9 Domains, 200 Courses, 20,000 Students, and 200,000 Contracts.
Bottom Line
ClickFunnels heavily targets smaller companies and startups, as many templates perfectly suit smaller businesses. The product is also easy to learn and has a short learning curve and many online courses.
ClickFunnels offers the perfect balance between freedom and ease of use; the learning curve is minimal and provides a great payoff.
Free trials are accessible with any plan, allowing users to get a feel for the service before committing financially.
Keap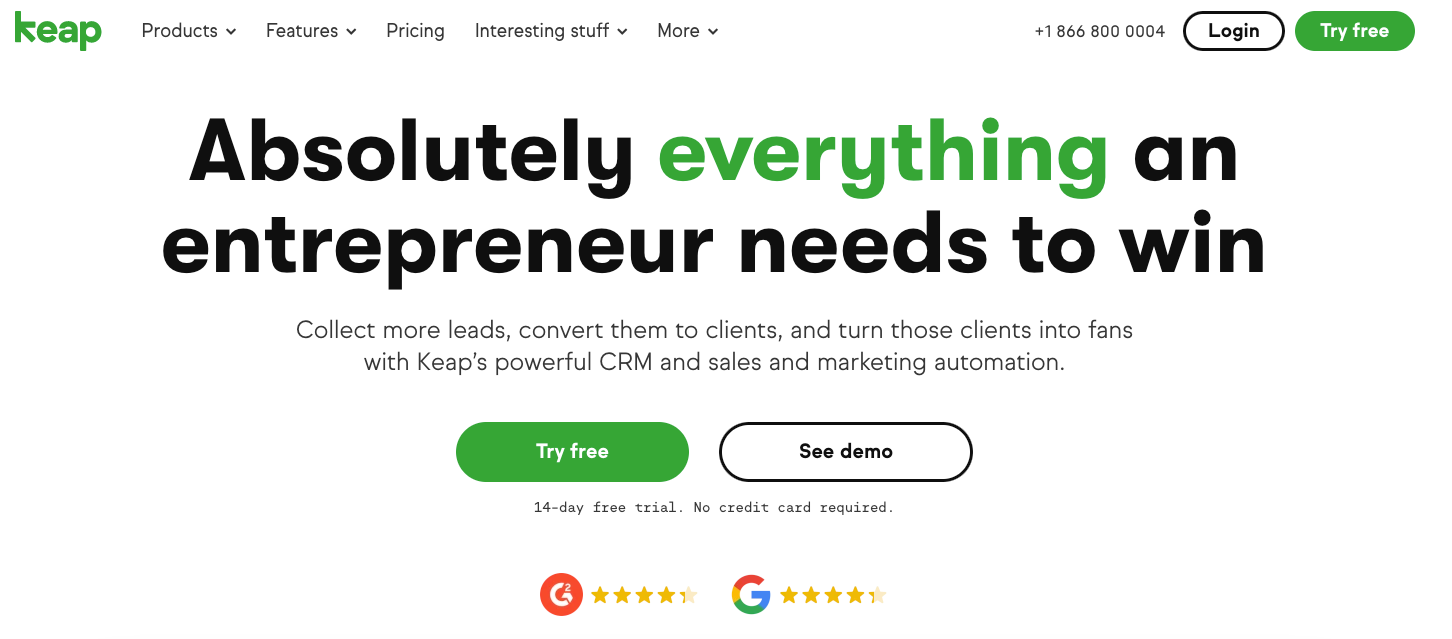 Overview
Keap is all about automating your marketing efforts. Keap is an all-in-one solution for managing a CRM, sales, and marketing platform. The goal is to help you increase your sales with its help.
Using their sales pipeline and CRM tools only requires some knowledge, allowing many users to benefit from their platform. You can start with prebuilt templates that create effective sales pipelines.
Additionally, you can view vital statistics that keep key business metrics available for your review. These metrics provide accurate insight into the growth of your business.
Highlights
Keap is an all-in-one solution for your sales and marketing automation. Using both will be easier to manage than having two separate subscriptions.

Many useful metrics provide insight into your growing business. 

All Keap plans provide you with a customer success manager; they are available to chat and support you and help you navigate the Keap platform.

Among all sales funnel builders, Keap has the easiest-to-use dashboard. The learning curve was the quickest, allowing new users to build their sales funnels with little investment.

The email marketing platform offered great flexibility, enabling automated email confirmations and follow-ups.
Pricing
Keap only has two pricing plans. Subscribing saves users 20% off yearly; the prices below are monthly.
Pro Plan
$149 a month – Email marketing, Sales & marketing automation, Dedicated phone line (US & Canada), Automated lead capture & follow-up, Lead & client management (CRM). Appointments, Sales pipeline & analysis.
Max Plan
$199 a month- Email marketing, Sales & marketing automation, Dedicated phone line (US & Canada). Automated lead capture & follow-up, Lead & client management (CRM), Appointments,  and Sales pipeline & analysis.
Bottom Line
Keap is an excellent sales and marketing automation platform. Using an all-in-one solution provides a simple-to-use platform over using two separate systems.
Business owners will also benefit from all the analytics and reports offered by Keap.
There is a 14-day free trial available for users to try out Keap and see if it is a good fit for their needs.
GetResponse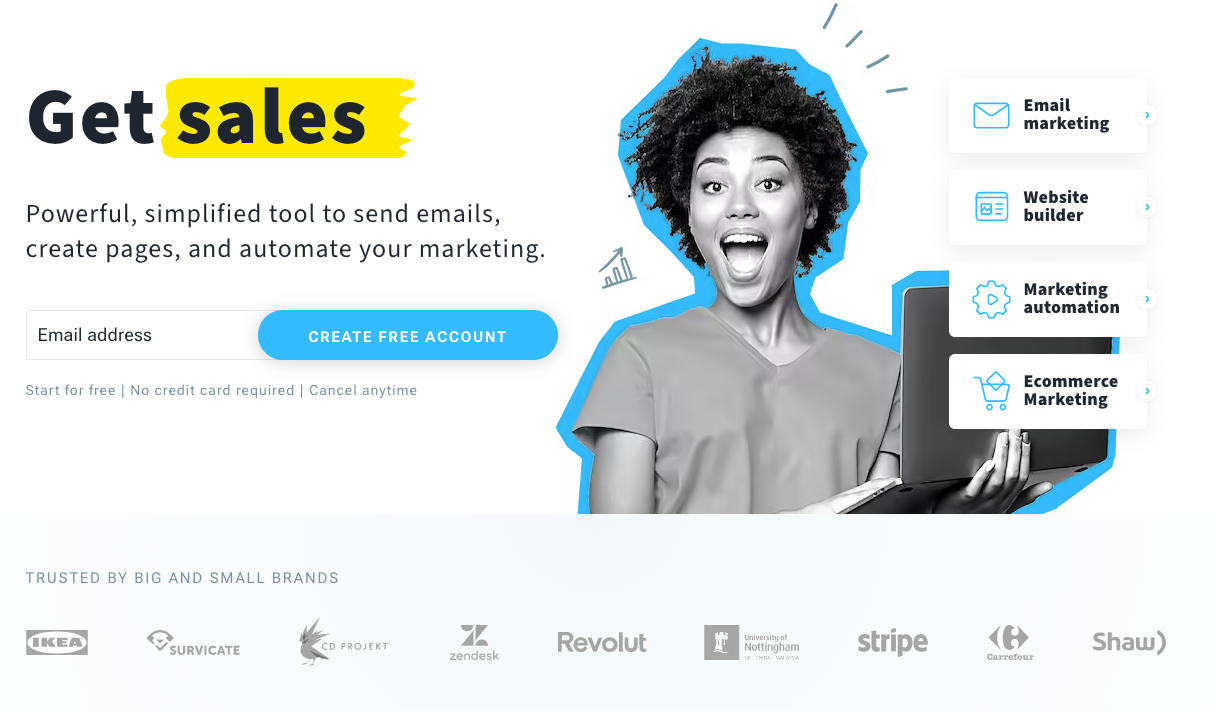 Overview
GetResponse (vs ActiveCampaign comparison) was originally a fully dedicated email marketing platform. It now has added new features to become a sales funnel software platform.
Email marketing automation is the core of GetResponse, enabling you to send emails for abandoned cart recoveries, confirmation emails, and one of the best autoresponders in the market.
Autoresponders will allow you to automate welcome emails, promote new products or services, and create follow-up email offers.
As for the rest, GetResponse has solid landing page templates that create a functional website, though it is a little bit basic.
Highlights
Marketing automation tools allow for flexibility, allowing you to have more freedom compared to other similar platforms.

List management is organized and allows for fast access.

GetResponse has a great live chat feature, allowing a new avenue for potential customers to contact you.

Provides visitors with AI-based product recommendations based on how they navigate the website.

Data reports are comprehensive and gather data in an easy-to-read interface.

GetResponse allows you to view our Google, Instagram, and Facebook ads directly from your account.
Pricing
GetResponse has a free plan and three paid plans. Yearly subscriptions receive an 18% discount, while two-year subscriptions receive a generous 30% discount.
All prices below are shown without any discounts.
Email marketing Plan
$19 a month – Unlimited newsletters, Unlimited landing pages, Unlimited Website Builder, Basic segmentation, Integrations, and API.
Marketing Automation
$59 a month – Marketing automation, Webinars, Contact scoring. 
Ecommerce Marketing
$119 a month – Quick transactional emails, Abandoned cart recovery, Promo codes, and Product recommendations.
Bottom Line
GetResponse is perfect for a smaller business that values email automation over everything else. The prices offered by GetResponse are competitive and provide great value.
The free plan offers a great way to try out GetResponse without any constraints. You can try out their landing page builder and see if it fits your needs.
Katra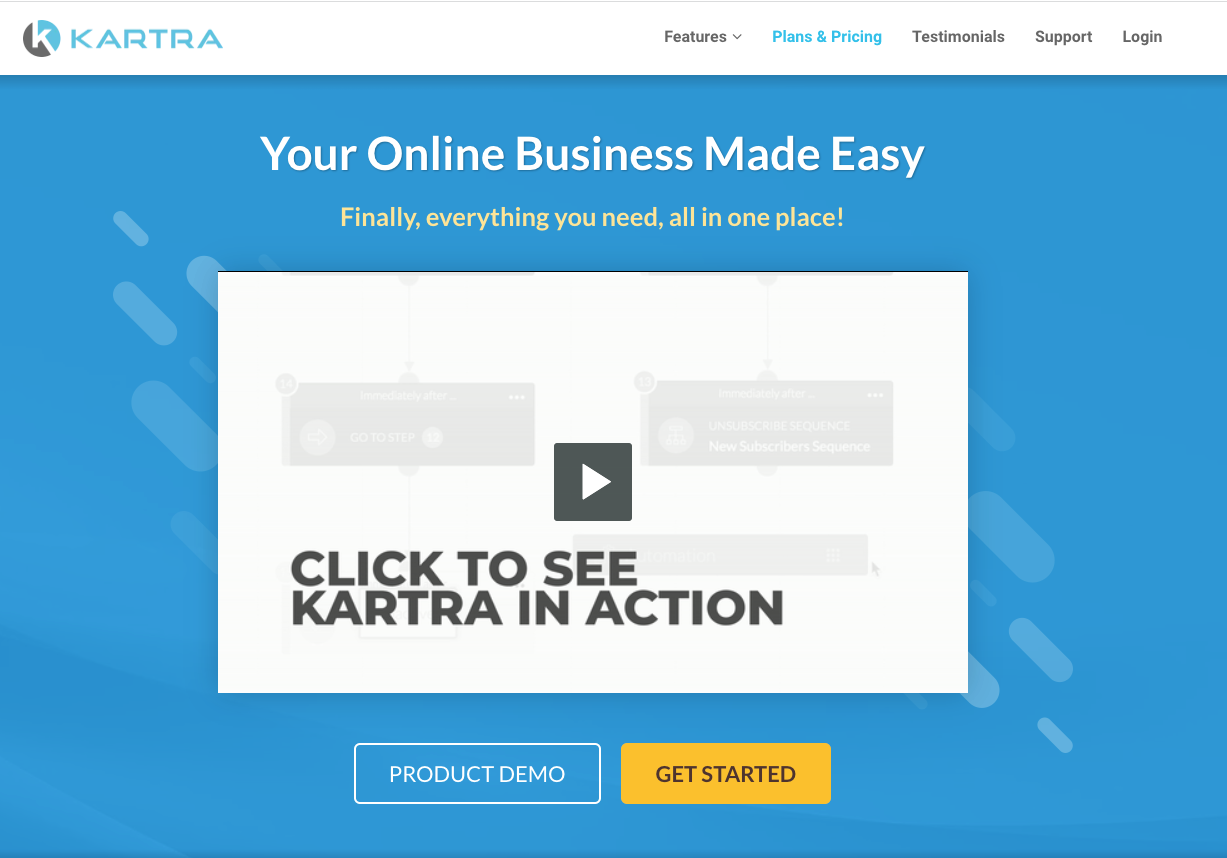 Overview
Katra (vs. Kajabi Comparison here) provides many essential features, such as email marketing, web hosting, and page building. It is a marketing platform that makes running your business easier by automating tasks.
Using their dashboard, you can automate tasks such as follow-up emails. 
Katra allows you to integrate your marketing, sales, and communication systems all in one organized platform. You also have access to a membership site builder that allows for benefits such as different payment tiers.
Using one subscription over several provides price advantages.
Highlights
Katra has a simple drag-and-drop landing page builder that allows for great landing pages. The learning curve is brief, but it is easy to learn.

Setting up an automated sales campaign is straightforward, requiring no previous experience.

There are several payment options, allowing customers to choose the payment method they feel most comfortable with. Payment options include Paypal, Authorize.net, and Stripe.

Katra provides excellent affiliate management software with lots of capabilities, such as setting commission rates, customizing a signup questionnaire, and creating affiliate portals.

The membership website experience is great to use for creators and end users. Setting up a membership website requires only a few steps.

Katra will provide analytics that shows how effective your emails are and show the general performance of your business.
Pricing
Katra offers four plans and includes a 25% discount for yearly subscriptions.
Starter Plan
$99 a month- Up to 2,500 Leads. 1 custom domain, 15,000 emails /month.
Silver Plan 
$199 a month- Up to 12,500 Leads, 3 custom domains, Unlimited emails, and Unlimited bandwidth.
Gold Plan
$299 a month – Up to 25,000 Leads, and 5 custom domains.
Platinium Plan
$499 a month – Up to 50,000 Leads, 10 custom domains, and Unlimited helpdesks. 
Bottom Line
A single Katra subscription provides access to several features that would otherwise require more than one platform. Prices are a bit expensive compared to the competition, but it makes up for it in value. 
Katra provides the ability to integrate all your business tools into one platform.
There is a 14-day trial to help you decide if Katra is worth its price tag.
DropFunnels
Overview
DropFunnels (full review here) stands out from the crowd by having features such as SEO support. Using SEO is an effective way to boost organic visitors and will result in increased online sales. You also have access to a link tracker and can create a membership website.
With some tweaking, you can edit any of their landing page templates and create stunning landing pages. Their sales funnel tool provides many templates to help you create sales funnels. The tool is simple and easy to use.
Highlights
DropFunnels creates optimized websites, meaning they are fast to load, helping with search engine ranking. Other website-building tools create unoptimized websites that have poor loading times.

You have access to create unlimited blog posts. DropFunnels provides guides on how to create effective blog posts to help your search engine ranking.

DropFunnels has great customer support with short queue times.

Sales funnels are important, which is why DropFunnels provides unlimited sales funnels to users.
Pricing 
DropFunnels has two plans that target different business sizes.
DropFunnels Starter Plan
$129 a month – Unlimited Courses and Subcourses, Unlimited Website Pages, Unlimited Blog Posts, Free access to DropResponder Pro, Free access to Perfect VSL Workshop Bundle, Unlimited Sales Pipelines, Unlimited Site Visitors, Unlimited Sales Funnels.
DropFunnels Ultimate Plan 
$299 a month – Custom blog layout, Custom course design, DropResponder Teams Plan, 10 Subaccounts. Custom Designed Authority Funnel, A one-on-one session with DropFunnels CEO.
Bottom Line
DropFunnels is great for businesses that value SEO. There are countless SEO features and capabilities that will result in organic growth.
This option is only recommended if website owners wish to rank their landing pages higher on search engines such as Google.
DropFunnels provides a free 14-day trial on their DropFunnels Starter plan. This is an excellent way to try out all their SEO features.
GoHighLevel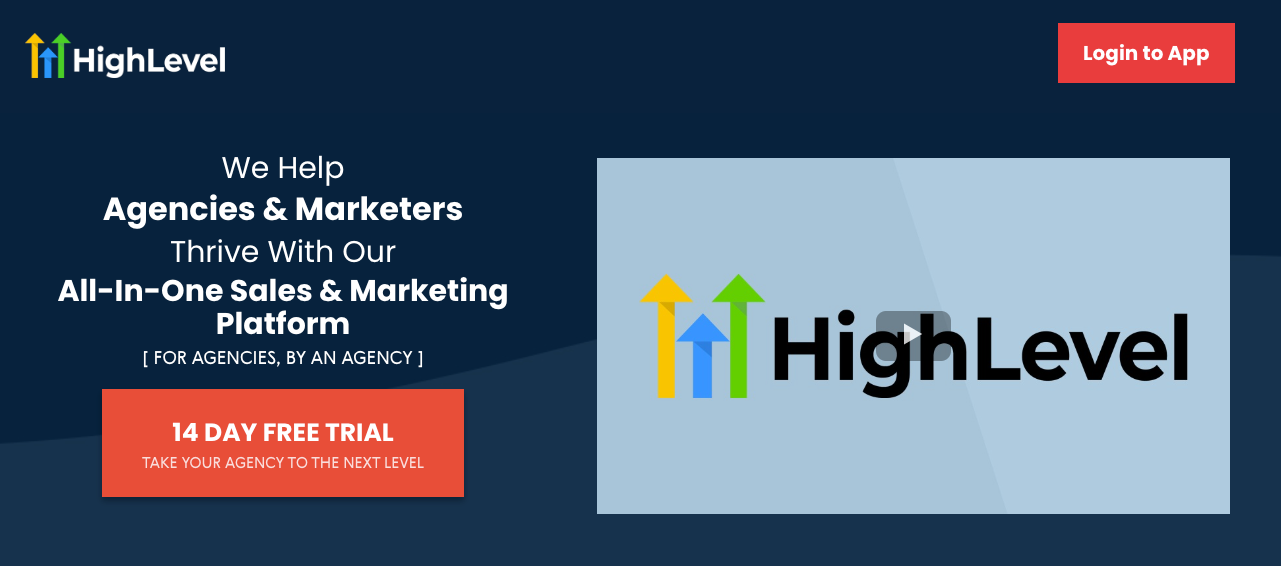 Overview
GoHighLevel is another all-in-one solution that stands out thanks to its marketing-related features. The platform features almost every tool a marketing-focused business would require.
This platform is perfect for those focused on digital marketing and freelancers that want to sell online courses. 
Due to being cluttered with features, GoHighLevel is difficult to use at first and has a steeper learning curve than your usual platform, allowing you to build sales funnels.
The goal of GoHighLevel is to replace many of your subscriptions and provide you with a better deal.
Highlights
GoHighLevel excels in conversion rate optimization and has many features that allow you to enhance your front-end sales funnel.

Many customer retention capabilities improve your customer retention rates.

Email automation is excellent, with the ability to automate follow-up reminders and all emails on the onboarding experience.

Detailed guides that help users learn the tool better.

Strong funnel builder that comes with many essential features.

Lots of website templates and provides a great website-building tool that offers lots of flexibility.
Pricing
GoHighLevel offers the following two plans.
Starter Plan
$97 a month – TWILIO – Enter your API to enable 2-way texting, MAILGUN – Enter your API for unlimited sending, Single Account.
Unlimited Plan
$297 a month – Unlimited Sub accounts, Branded Desktop App.
Bottom Line
GoHighLevel is perfect for marketing-focused industries that prioritize features such as improved customer retention and better sales conversions. This tool is perfect for lead generation and building strong funnels.
The first two plans offer a free 14-day trial to give you a sample of their features.
LeadPages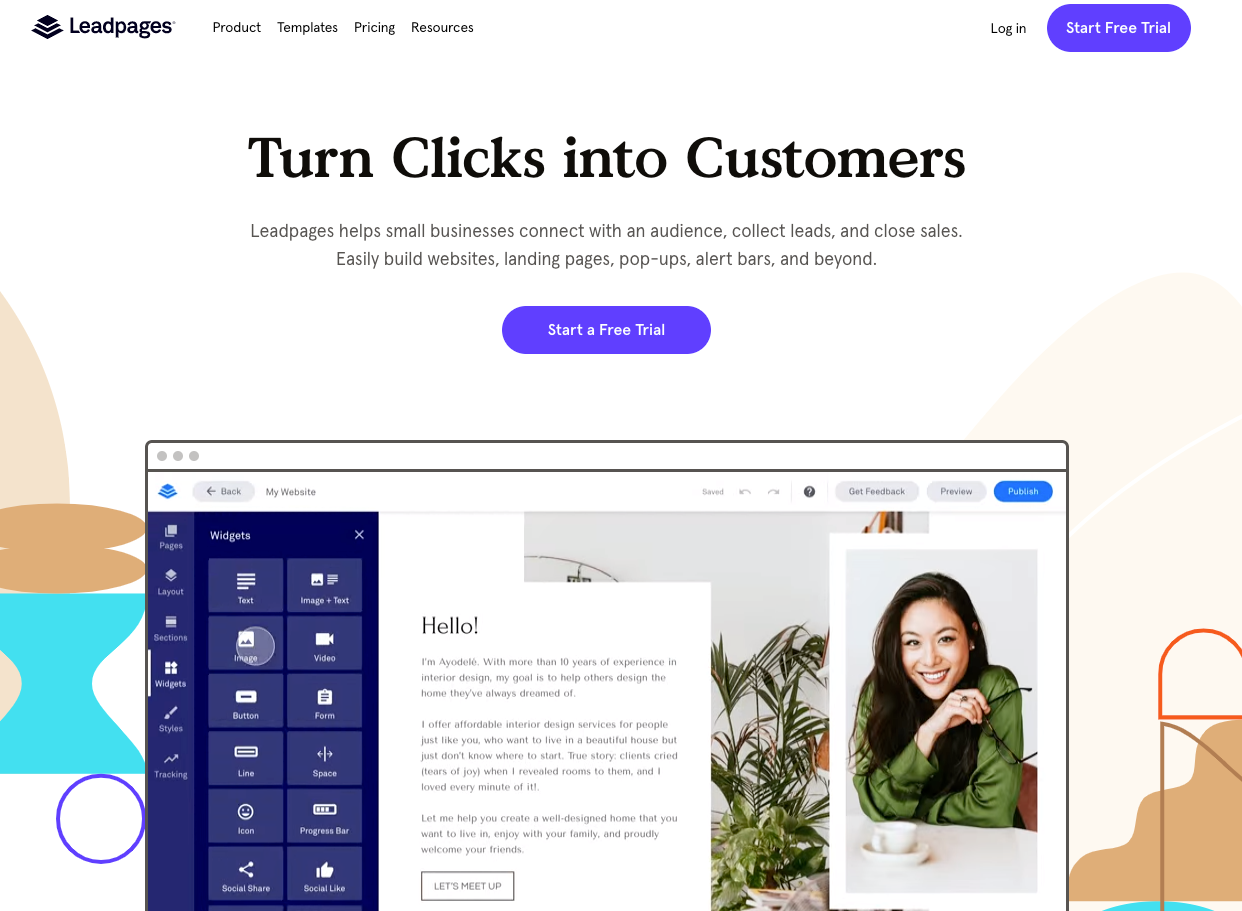 Overview
Ease of use is a vital requirement for many business owners, and LeadPages is one of the simplest tools to use on this list. LeadPages offers over 100 free templates, allowing users to easily find a template that meets their requirements.
If you fail to find a template that matches your needs, there is a large marketplace that offers premium templates; these allow users to find professional prebuilt templates that are ready to publish and come with lots of features.
Highlights
The builder tool includes a live demonstration of your website, which enables you to see the final product and make design decisions much faster. The editor is great to use and is straightforward.

Includes basic SEO support such as page tracking and meta titles, allowing you to improve your search engine ranking.

Analytics are built-in and easy to use and manage.

Widgets allow for a new and simpler way to add features to your website. This is different compared to other web builders, but it introduces a hassle-free method to add functions to your website.

The page layout is extremely customizable, allowing users to place items on columns and rows with little constriction.
Pricing
LeadPages comes in two plans and offers yearly discounts. Users can save $144 monthly for the first plan when billing annually and $300 for the second one.
The following prices will be displayed when paying monthly.
Standard Plan
$49 a month- 1 Site, Unlimited Traffic & Leads, Landing Pages, Pop-Ups, and Alert Bars.
Pro Plan
$99 a month – 3 Sites, Unlimited Traffic & Leads, Landing Pages, Pop-Ups, Alert Bars, Free Custom Domain. Free Hosting. 
Bottom Line
LeadPages is excellent for users that are not tech savvy, as the platform prioritizes ease of use without sacrificing any features. 
The web builder will provide beautiful website designs, making it great for business owners seeking a website with great aesthetics.
There is a free 14-day trial for both plans, allowing users to judge the ease of use of the platform.
What Is a Sales Funnel Builder?
Finding a tool that can create sales funnels and enhance your sales process is easy, but it is hard to differentiate between the best. 
ClickFunnels provides the perfect balance between ease of use and functionality. It also provides great scalability options, allowing you to keep using it as a growing business. 
Having a scalable platform is great as some web builders lack effective plans for larger businesses. Changing between web builders is a time-consuming process that will require a large commitment. If you're not convinced and need more details, check out this ClickFunnels vs. Dropfunnels comparison article.
Wrap Up
Finding the perfect sales funnel builder depends on your needs. Users seeking great functionality will appreciate GoHighLevel as it offers tons of features. 
Those wanting an easy-to-use interface will adore LeadPages and the simplicity it brings to the web-building experience.
ClickFunnels is considered a middle ground between offering functionality and providing ease of use.
Related articles:
Best Link Trackers for Marketers in 2023 (Free to Premium)

Kartra Review – Is It the Right Platform for You?

Builderall Review: Is This The Best All In One Marketing Platform For Your Business?

ClickFunnels vs Builderall: Funnel Builder VS All In One Marketing Platform

Systeme.io Review: All-In-One Marketing Platform for Small Businesses
Some of the links in this article are affiliate links. If you decide to purchase a paid plan or program by using the links provided on this page, I may receive a commission for that purchase at no additional cost to you. 
This site is not intended to provide financial advice and is for entertainment only. You can read our affiliate disclosure in our privacy policy.
Walter Voronovic shares accurate, honest & pragmatic information on how to use the internet to build profitable digital business assets. 
Digital Marketing Guides & How To's SEO Guides & How To's Ad Tracking & Attribution – Increase ROAS With Accurate Reports Graphic Design Business Ideas
Read More »